Manufacturers are full of ideas for nifty products to specify on residential projects, whether it's interactive shower controls, security doors or floor adhesives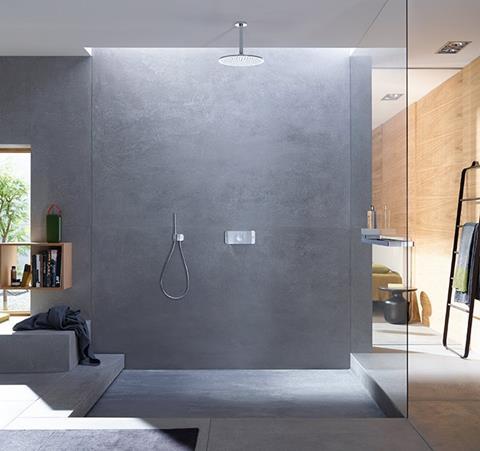 Interactive shower control element
Hansgrohe has announced the launch of an all-in-one interactive shower control element, Axor One. The product allows the user to control multiple water outlets, such as water temperature, volume, or consumption in one dial. It also has an Eco Mode setting, which the company claimed can reduce water consumption up to 50%. The product will be available in the UK from January 2016.
Hansgrohe
www.hansgrohe.co.uk
Party wall air barrier pack
Protect Membranes has launched the Protect Party Wall Air Barrier (PWAB) Pack, designed for timber frame construction. The pack consists of 300mm x 25mm Protect party wall air barrier construction membrane and Protect reinforced universal tape. The company said the product seals the cavity to reduce air movement, which in turn reduces heat loss. The pack is designed to be airtight but vapour permeable, with water vapour resistance performance to EN ISO 12572 of 0.17MNs/g.
Protect Membranes
www.protectmembranes.com
Heat Recovery Units
Fife Council has specified EnviroVent's heatSava Single Room Heat Recovery Units for 67 social homes. The company said the product was chosen to reduce issues with condensation and mould growth, as well as improving energy efficiency. The product has Intellitrac controls, which alter the motor speed when humidity levels increase. The heatSava is available in two sizes, 100mm and 150mm.
EnviroVent
www.envirovent.com
Float activated flow control
Hydro International has launched Hydro-Brake Agile, a float activated flow control device designed to maintain a constant discharge rate. Under low water flow conditions the unit remains fully open, allowing any waterborne debris to pass forward. In case of an increased flow, the float arm closes the gate until the maximum water level and discharge rate is reached. As the water level goes down, the float will return to its resting position and the gate will be open. The product is made from high-grade stainless steel and can be supplied prefitted in a cast concrete chamber. It is CE marked in accordance with the EU Machinery Directive (2006/42/EC).
Hydro International
www.hydro-int.com/uk
Movers and Makers
BSI has revised the BS 9991 code of practice relating to fire safety in the design, management and use of residential buildings. The revised code has an added section covering fire safety precautions in sheltered housing for vulnerable residents.
Recticel Insulation's PIR Eurowall+ cavity wall solution is now BBA certified. The cavity wall solution achieves a U-value of 0.18 W/m2K in new-build constructions and was designed to help specifiers meet current Building Regulations without amending existing designs of the building. Manufactured in three sizes, 75mm for 85mm cavities, 115mm for 125mm cavities and 140mm for 150mm cavities, Eurowall+ also features a tongue and groove joint which locks the boards together, minimising heat loss through thermal bridging.
The online version of the Robust Details handbook has been updated. The Robust Details scheme is an alternative to pre-completion sound testing for satisfying Part E of the Building Regulations. Using the scheme avoids the uncertainties of pre-completion sound testing. One of the key changes is to the Besblock wall, E-WM-26, which can now accept blown mineral fibres as cavity insulation. Other changes include the amendment in the density range for insulation used in the joist zone of E-WS-2. The handbook can be downloaded from the company website: www.robustdetails.com
Structural waterproofing and gas protection system specialist Visqueen Building Products has launched a new website www.visqueenbuilding.co.uk. The company said the site had been designed with a simple and clean layout and features a blog offering the latest industry information. The company also said the site has been optimised for mobile users as over half of users access the site with mobile devices.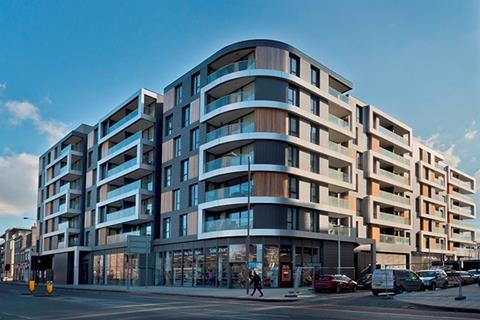 Fibre cement cladding facade
Marley Eternit's EQUITONE [natura] fibre cement facade was specified for the Greenwich Square regeneration project, which features 645 new homes, restaurants, shops and leisure facilities. The company said EQUITONE [natura] in Anthracite colour was chosen for Block 2 to contrast the facade and natural timber cladding. EQUITONE [natura] is available in a range of colours and finishes including an anti-graffiti coating, and both mechanical and secret fix options.
Marley Eternit
www.marleyeternit.co.uk

Floor adhesives
F Ball and Co was chosen to supply smoothing underlayment and flooring adhesives for a barn conversion and extension in Bloxham, Oxfordshire. Stopgap 1100 Gypsum, a calcium sulphate-based self-levelling smoothing underlayment, was used to create a smooth surface. The company said Styccobond F48 adhesive was also selected to attach the vinyl floor tiles in the kitchen area, due to its heat resistant properties as temperature changes were expected because of floor-to-ceiling windows.
F Ball and Co
www.f-ball.co.uk
Security doors
The SOLEAL aluminium door system from Technal was specified for an office and apartments complex refurbishment at Clifford's Inn, London. The product was chosen as the project required a single product to serve the users of the building, staff and visitors and occupiers of the apartments. The SOLEAL high traffic door range uses a 55mm deep module for the pivot doors and achieves low U-values of 1.4W/m2K and meet the security requirements in accordance with Class RC3 for burglar resistance to BS EN 1627-30.
Technal
www.technal.co.uk/en/