This week's roofing products include roofing membranes chosen for an extension of the Park Plaza Riverbank hotel in London, and a replacement waterproofing system at California House in Birmingham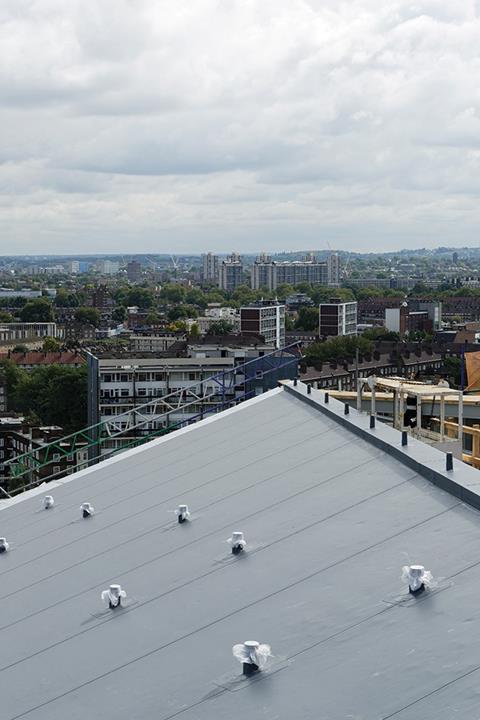 Roofing membranes
Sika-Trocal Type S and Type SGmA single-ply roofing membranes were chosen for the roof of an extension at Park Plaza Riverbank hotel in London. The company said Sika solutions were chosen due to the number of roof sections and complexity, which needed a reliable installation. A total of 1,755m2 Sika-Trocal Type S roofing membrane was used across the three main roof areas, and around 227m2 of Sika-Trocal SGmA membrane was installed.
Sika
www.sika.com/uk
Movers and Makers
Welsh Slate has published a new natural slate roofing guide to advise architects and roofing contractors how to specify and install natural roof slates. The guide also includes the revised recommendations in the BS 5534 code of practice for slating and tiling, which takes account of increases in extreme weather and changes to European standards. Technical details are included, with specifiers being able to request advice from the technical support team, including specification writing and CAD drawings.
Cembrit's fibre cement slates have been awarded BBA (British Board of Agrément) certification. The range includes Westerland, Moorland, Zeeland, Jutland and Diamond, which can be used on conventional pitched timber roofs with a pitch of 20° and over, or hung vertically as cladding. Matching fibre cement ridges and fixings are available.
SIG Design & Technology is offering architects a free green roof kit if they subscribe to their roof design technical blog. The green roof kit is built using the Verdico Verdiroof system and shows how a built-up green roof works and looks. To get a trial kit for your office, visit: www.singleply.co.uk/free-green-roof-trial-kit-application-form
Conservatory roof specialists Wetheralds has received LABC certification for its replacement roof system after switching to Actis Hybrid. This means LABC building control surveyors in over 300 local authorities can select the tiled roofs, when used in adherence to the certification. The roofs are fitted with 90mm of Hybris insulation and H Control Hybrid vapour control layer, achieving U-values of 0.18.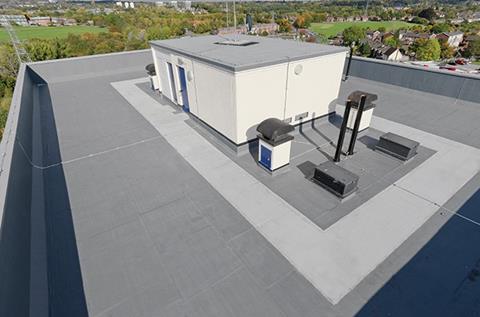 Waterproofing system
Alumasc's Euroroof Caltech waterproofing system was specified to replace the roof at California House retirement home in Birmingham. The existing roof system had been repaired multiple times and had minimal thermal insulation. A Euroroof vapour barrier was laid first, and then Derbifoam thermal insulation, which the company says achieved a U-valuevof 0.18 W/m²K. Euroroof Refurb Pro rainwater outlets were installed and finally the Euroroof Caltech waterproofing system.
Alumasc
www.alumascroofing.co.uk
New fastener for big six profile
EJOT UK has launched a baz-type screw for 'big six' profile roofing sheets following concerns from the Rural & Industrial Design and Building Association that environmental factors can cause the fixing holes in agricultural roofing sheets to enlarge and cause slippage. The fastener was developed for steel purlins of 1.2mm to 2mm thickness, with the length of the fastener optimised to ensure the baz washer sits firmly against the sheet, preventing movement that could enlarge the installation hole in thinner purlins. The company said tests show the fastener has a mean performance of 3.8KN from 1.4mm steel purlins and 3.0KN from 1.2mm galvanised steel purlin sections.
EJOT
www.ejot.co.uk
Roofing slates
Hardrow slates from Forticrete were specified for an extension at Tennants Auctioneers in Yorkshire, which included the construction of display galleries, large sales and function areas, seminar rooms and theatrical facilities. The company said its Hardrow slates were chosen as the extension needed to match the style of the existing building and locality. The slates are suitable for roofing and vertical cladding. The sizes range from 457mm x 305mm (minimum pitch 25°) up to 610mm x 457mm, which can be laid at pitches as low as 17.5°.
Forticrete
www.forticrete.co.uk
Roof slates
Around 18,000 of SSQ's Domiz natural roofing slates have been specified for a new-build housing development in Gloucestershire. The company said its slates were chosen as the main contractor required a roofing material that complemented the facing stone used at the front, and rustic brick to the rear. The company said its Domiz slate offered a cost effective alternative to Welsh slate in terms of performance and its blue-grey appearance.
SSQ
www.ssqgroup.com
Tile fixing
Redland has launched a tile fixing called Innofix Clip. The company said the fixing clip can be used without a hammer, speeding up installation times by 40% compared to traditional clips. The clip meets the requirements of BS 5534, the British Standard Code of Practice for Slating and Tiling. There are five types of colour coded clips available in the range for use with Redland's range of slates and tiles.
Redland
www.innofixclip.co.uk
Roof PV tiles
Romag's Intecto integrated PV roof tile has been used for the first time in a Gentoo Homes housing development at Beechbrooke, South Shields. The company said its tiles were chosen to match the terracotta roof tiles used on the new houses. These can be installed traditionally and fit on to wood roofing battens, enabling a flush fit with the conventional tiles. The tiles are available in black, grey and terracotta colours, and are IEC and MCS-certified.
Romag
www.romag.co.uk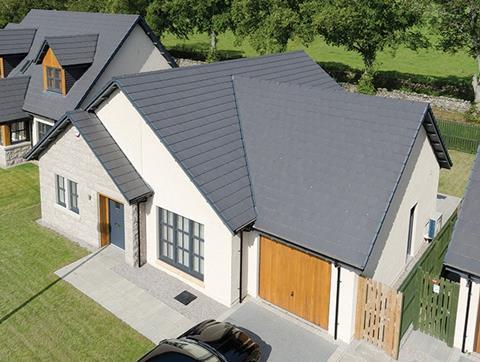 Interlocking tiles
Marley Eternit has supplied its Edgemere interlocking tiles for a housing development in Aboyne, Scotland. The company said its tiles were specified to provide a more cost effective solution than natural slate, as the roof required a slate aesthetic to meet planning criteria. Due to extreme weather in Aboyne, Marley Eternit's full dry fix system was also chosen for its strength.
Marley Eternit
www.marleyeternit.co.uk