A range of flooring styles is demonstrated this week, from a resin floor used to direct passengers at a refurbished bus terminal to the striking design feature made from rubber floor tiling at SAP's office reception
Rubber flooring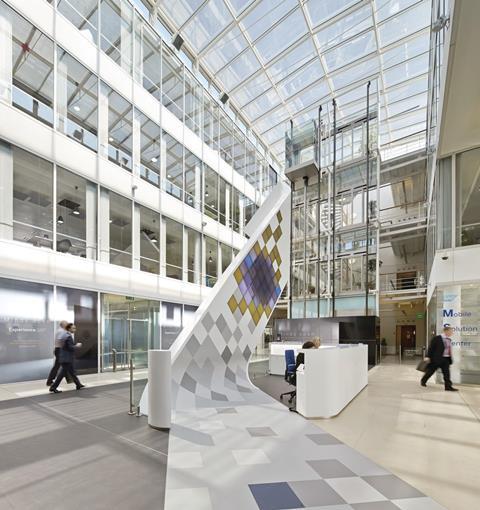 Software applications giant SAP has chosen rubber flooring from Nora Systems for its UK office. SAP and architect HLW International wanted a plain rubber tile with a good colour choice that was durable and easy to maintain. Over 300m2 of noraplan uni floor covering has been installed in various areas, including the striking design feature behind the reception desk on the ground floor, the technology suite, the meeting room's reception and foyer areas. The company claims with its plain colours, smooth surface and excellent environmental properties, noraplan uni fits the criteria easily.
Nora
Resin flooring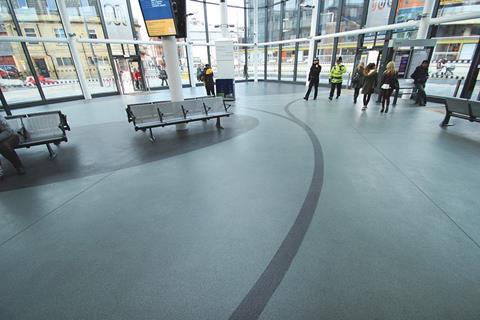 John Lord has taken its exclusive Agriclad QB resin flooring and designed a flooring system for the refurbishment of a bus terminal. A two-colour tone was chosen along with a design that would help the flow of pedestrian traffic through the building and efficiently towards the exits or the transport departure doors. The company claims that along with the practicality of the flowing lines Agriclad QB also increases the aesthetics of the building with flowing curved lines and coloured quartz aggregates catching the light through the large windows.
John Lord
Decking
Fiberon has recently launched The Good Life
Railing range to complement its existing range of co-composite floor decking. Good Life Railing is made from a premium composite substructure with a permanent finish. The company claims the classically sculpted top-rail design adds a smart finishing touch to porches, balconies and stairs, with installation being quick and easy with drop-in balusters and matching rail collars. Good Life Railing is available in a wide range of colours from ocean blue to a sunny shade of orange.
Fiberon
Damp proofing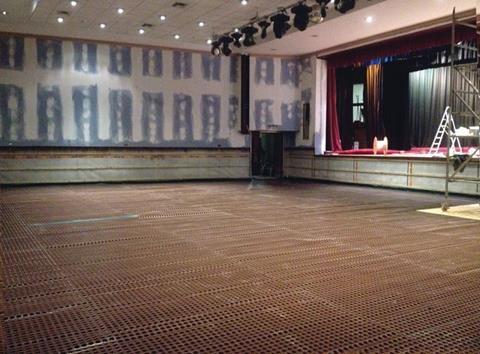 Damp proofing materials from Delta Membrane Systems have been used to combat severe damage to the walls and floor of a subterranean hall. Water had seeped through the junction of the wall and the floor at the Bourne Hall Community Centre in Ewell, Surrey (pictured, above) - which is used for a number of community activities including dancing. Approximately 240m2 of Delta Membranes' MS20 was used for the floor. The company says that after the installation of Delta Products users of the community centre have been able to return to their activities with little inconvenience.
Delta Membrane Systems
Oak flooring
Working closely with architects BIG (Bjarke Ingels Group), Junckers has created a custom-finished oak floor for the M/S Maritime Museum in Helsingør, Denmark. The floor acts as a bridge between the concrete, glass and steel in the interior, housed in a 150m-long, old concrete dock. The brief was for a solid hardwood floor with a rustic quality to match the raw and patinated concrete of the old dock. The company claims the flooring has achieved this by using its oak staves, with the new flooring giving warmth to the overall impression of the museum.
Junckers
Entrance flooring system
Forbo Flooring Systems has enhanced its Nuway range of entrance flooring. The original Nuway Tuftiguard Classic and Design collections now benefit from two new scraper bar options. The black anodised option provides a very contemporary matt black aesthetic, compared with standard aluminium bars. The company claims both of the new scraper options offer a key benefit to public buildings as they do not create a strobe effect in bright entrances, which helps to achieve compliance with the Equality Act.
Forbo Flooring Systems
Sheet flooring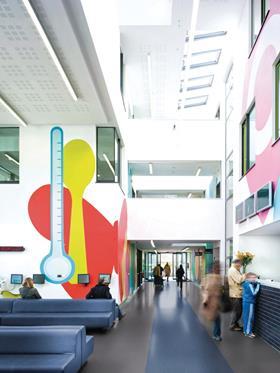 Flooring manufacturer Upofloor has launched Upofloor Zero, a new range of sheet flooring. Made from a material called Enomer, the flooring contains "zero" PVC, chlorine, plasticisers, phthalates, halogens and heavy metals. The company claims that due to its
flexible, homogeneous structure, installation is easy and sheeting can be quickly moulded into awkward areas, including floor drains and up onto walls. The Zero colour pallet includes 45 speckled shades - from light pebble tones, through vibrant primaries, to deep inky shades.
Upofloor
Floor finishes
Kingspan Access Floors has developed oak veneer staves that use magnetism to fasten to the company's steel encapsulated floor panels. The new product, called Attiro, is available in lengths of 1,200mm to 2,000mm per stave and in widths of 90mm to 200mm. Its depth is 17mm, which includes a 4mm solid oak veneer, available in a wide range of shades and finishes. The company claims Attiro is environmentally friendly as it can be easily lifted and reused in another area or project and the product has FSC third party chain of custody accreditation when supplied and installed by Kingspan.
Kingspan
www.kingspanaccessfloors.co.uk
MOVERS AND MAKERS
Tata Steel has announced that its asymmetric slimflor beams, used for composite structural floors, are now available at shorter notice and in smaller quantities. Tata Steel said the typical lead time was now six to eight weeks with a minimum order of 120 tonnes.
Robust Details, the organisation that approves standard construction details that remove the need for pre-completion sound testing for Part E of the Building Regulations, has updated its handbook.
Specialist vinyl flooring manufacturer Polyflor has announced that it has obtained BES 6001 certification, demonstrating compliance with a recognised responsible sourcing scheme as certified by the BRE. Now in its third issue, the BES 6001 framework standard for responsible sourcing sets out requirements under three main headings: organisational management; supply chain management, and environmental and social responsibility management.
F Ball and Co, manufacturer of flooring adhesives, has released a new version of its comprehensive Recommended Adhesives Guide for 2015. The guide features 5,500 up-to-date adhesive recommendations for floor coverings, endorsed by over 200 leading international manufacturers. The guide is available free as an A5 book and online at www.f-ball.co.uk/rag.asp
Crown Paints has released a new video containing information on its Sadolin interior flooring range. The video explains the product and its suitability for a wide range of environments. Crown Paints Sadolin woodcare expert, Sean Thompson, presents the video and gives advice and useful tips on how to get the best from Sadolin products. The "This Is Sadolin" series is available to watch on the Crown Paints YouTube channel at www.youtube.com/user/SadolinWoodcare.