Green roofs, clay roofs and even BIM-ready roofs. Whatever you've currently got in mind for roofing solutions, these manufacturers can top it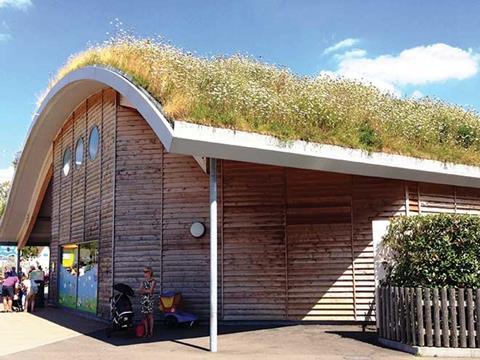 Verdiroof
SIG Design & Technology has launched a new green roofing system VerdiRoof, which it says is suitable for a warm/inverted roof build up. Its drainage system protects the waterproofing and helps sustain plant life with a choice of three types of sedum cover; blanket, plug plants or seeding.
The growing medium for VerdiRoof comprises pumice, bark compost, and a carbon capture pellet.
The company said when tested, the University of Greenwich found each cubic metre of extensive substrate to have a CO2 footprint of minus 7kg.
SIG Design & Technology
Movers and Makers
Latchways has announced a portfolio of roofing products that are now "BIM ready". Architects, specifiers and contractors will have full access to downloadable families of BIM components compatible with Revit software, through The National BIM Library and their own website. The Latchways Constant Force roofing systems currently available for BIM are: Standing Seam, BUOS Composite, Single-ply and Green Roofs.
Sundolitt has released UK specifier support literature for their XSP thermal insulation board. The aim of the literature is to to help construction and civil engineers, building contractors, architects and distributors to select from its range of density, thickness, size and format, and has a six-page overview of the credentials of the material and a product data sheet outlining the options available, as well as indicating which of the specifications are available ex-stock for urgent projects.
Products

New clay tile colours
Redland is introducing a new tile colour to its Rosemary Clay Craftsman range. The Craftsman Victorian tiles have black patterning, pitted surfaces, irregular front edge distortion and varying hanging length, which the company says imitates a weathered tile. The manufacturing process gives the colour the look and style of a heritage tile while being durable.
Redland

Silicone repair system
Seamsil silicone external repair system from Delvemade has been chosen to repair the roof of Birmingham Mail Centre. The product was chosen to solve the issue of cut edge corrosion, which can be caused by a number of factors including poor installation, on-site cutting and acid rain. Seamsil can be used on coatings such as PVC, PVF2 / PVDF, silicone polyester, acrylic, polyurethane and most paint finishes.
Delvemade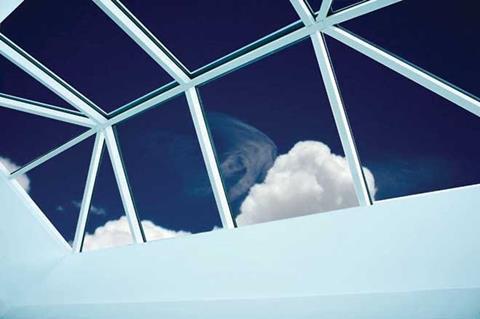 Modular ridgelight
Whitesales now supplies six standard sizes of its Em-Glaze Modular Ridgelights, which are designed to create a ridgeline skylight into building designs. The product has low-profile framework and increased glazing, which the company claims maximises the amount of natural light reached. The rooflight complies with wind loads of 1.32Kn/m2 and snow loads of 1.0kn/m2. Fixed, permanent and adjustable ventilation options as well as a blue solar tint option are available.
Whitesales

Primer-less structural adhesive
Crestabond M1-30 structural adhesive from Scott Bader has been used on a composite concourse roof for Haramain High-Speed Railway Station to interlink 27m2 square curved modules. Crestabond M1-30 is a toughened, two component 10:1 MMA structural adhesive which is designed for bonding a range of substrates including metals, plastics and composite materials in industrial applications.
The product was chosen for this project as the interconnecting roof panels needed to be structurally lightweight and easily installed onsite during construction.
Scott Bader

Ecological roofing solution
Derbigum Olivine, an ecological roofing solution from Alumasc, has been used in the roof refurbishment of Mount Stewart Junior School in Harrow. Derbigum Olivine membranes have a naturally occurring mineral upper layer that neutralises CO2 through a chemical reaction when it comes into contact with rainfall. The product was chosen to solve issues with leaks and water ingress.
Alumasc

Roof tiles
Hardrow Duets Slates in Dusk from Forticrete were specified by MacBryde Homes for a new housing development in Neston. The company says its roof tiles were chosen to blend in with the surrounding conservation area.
The slates can be laid in random widths or diminishing courses, with sizes ranging from 457mm x 305mm to 610mm x 457mm.
Forticrete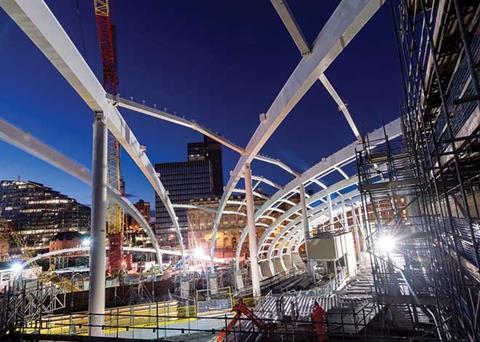 Bespoke curved steel ribs
Barnshaws provided 15 curved steel ribs for the roof refurbishment at Network Rail's Manchester Victoria Station. Part of the requirements included 350mm square hollow section (SHS) steel and steel plate 550mm x 50mm thick. The company was chosen as this project required a modern roof that also complemented the original grade II-listed building, as well as providing capacity for expanding in the future.
Barnshaws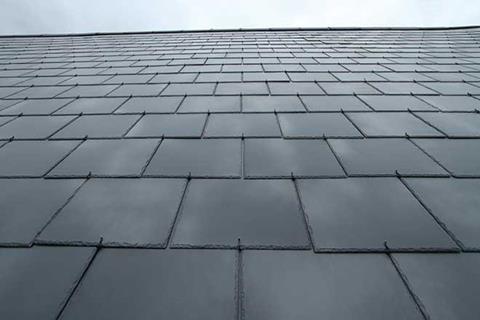 Roof slates
New colours have been added to Marley Eternit's Birkdale slates range, including Flame Grey and Flame Brown. These fibre cement slates can be used at as low as 15 degrees pitch, using hook fixings. The slates are multi-coloured to provide a similar aesthetic to natural slate, with a smooth surface and dressed edges. The tiles also have an environmental rating (A+) in the BRE Green Guide and BES 6001 Responsible Sourcing rating of "very good".
Marley Eternit