Colourful walls and glazing to cheer up hospital environments, a secure fencing system for a mental healthcare setting and a web-based key system are among the products featured this week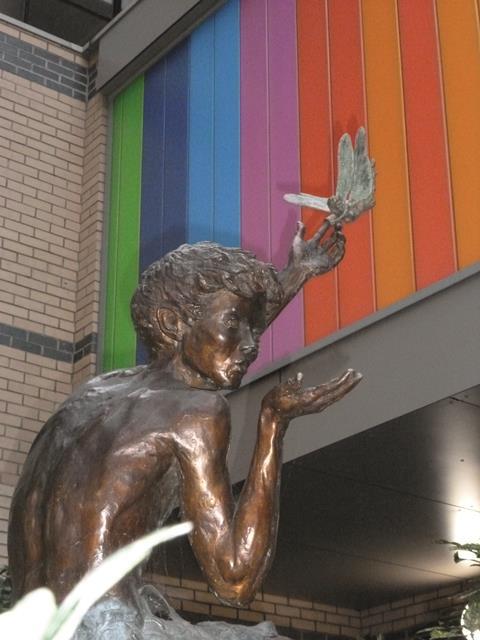 Illuminated glass
Lumaglass's Chroma architectural illuminated glazing system has an integrated lighting system and can be specified with white and colour-changing lighting. It has been used at Great Ormond Street Hospital to bring a sense of fun to the children's hospital. The company applied high-colour resins to the inner face of the glass before utilising white electroluminescent lighting. Lumaglass says the low-maintenance system also increases thermal insulation and sun protection, offering sound reduction of up to 43dB.
Lumaglass
Movers and Makers
ArjoHuntleigh has released a new and updated Handbook of Transfers, which details theoretical principles and practical examples for the safe transfer of people in care facilities. The company, which makes a range of transfer solutions such as ceiling lifts, slings and raising aids, will also offer a range of educational courses surrounding the publication, ranging from one-day awareness courses to five-day workplace competency programmes. The handbook follows the success of the first such handbook published by the company, which was released in 2004.
Armstrong Ceiling Solutions has published a showcase of its European projects, titled A Book for 2017. The publication aims to prove that ceilings are no longer an afterthought in the design and build process. The 82-page brochure unveils snapshots of new-build and refurbishment projects from the retail, leisure, education, office, healthcare and transportation sectors. Some of its UK projects include supplying metal tiles for the National Biologics Manufacturing Centre in Darlington and Axiom Knife Edge canopies for CFC Underwriting's London offices.
New Vision Health, which provides signs and graphics for the healthcare sector, has launched a new dementia-friendly product portfolio and online shop. The company has developed the shop to enable hospitals and care homes from across the UK to purchase products such as dementia-friendly signage, digital aquariums, retro TVs and memory boxes. It says that although it has been involved in bigger renovation projects in the healthcare sector, the launch of the shop is important to give smaller healthcare facilities access to its product range.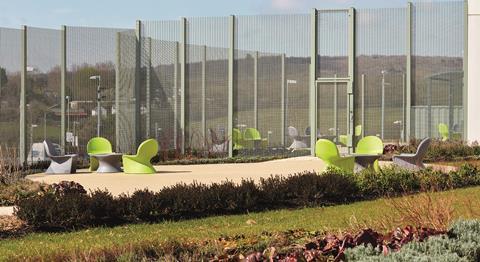 Secure external fencing
CLD Fencing Systems teamed up with Littlewood Fencing to deliver a secure external environment for Hafan Y Coed adult mental health unit at University Hospital Llandough, Cardiff. For the £88m, 134-bed mental health unit, designed by Powell Dobson and Laing O'Rourke, Littlewood Fencing approached CLD Fencing Systems to supply mental health unit fencing promoting safety, security, privacy and access control. The end design used the Securus and Lockmaster range, adapted to the site's specific needs. The fences offer anti-climb, anti-ligature and anti-cut properties, and include concealed hinges, with 18 gates installed on site. Privacy screens were also included to create a rest place for patients relaxing outside in the gardens.
CLD Fencing Systems
Electronic master-key system
Abloy UK's Protec2 Cliq web-based security management system has been used Scunthorpe General Hospital and Queen Elizabeth Hospital Birmingham. The system, which combines electronic and mechanical technology, allows for the remote management of electronic master-key systems. By providing audit trails on medicine cabinet cylinders and padlocks, as well as the ability to remove lost or stolen keys from the system, the company claims that Protec2 Cliq offers tight key management at all times.
Abloy UK
Steel-frame modular building system
Ibex is a steel-frame modular-building system consisting of preassembled modules, from Elliott Group. Its use in building a clinical support unit at Pinderfields Hospital in Wakefield, West Yorkshire, allowed large elements of the building – which contains an advanced eye clinic and office space – to be constructed off-site. The project was completed in 32 weeks including site remediation and external works. According to the company, this system also offers increased insulation, low-energy lighting, energy-efficient heating and water-saving technology.
Elliott Group
Fibre-bonded carpets
Heckmondwike, the manufacturer of heavy-contract fibre-bonded carpets and carpet tiles is offering a complete solution for the care sector through its Pure Care and Total Care ranges. Both care ranges are designed to be stain resistant and durable, with an impervious backing, to make them suited to healthcare environments. Available in eight colour options, the carpets are available in 4m widths for easy fitting. It also offers a range of entrance products for care homes and sheltered housing, including the Vanquisher range with an alternating rib and velour surface pattern.
Heckmondwike
Steel sanitaryware
Stainless steel sanitaryware manufacturer GEC Anderson's stainless steel worktops and splashbacks – which have been installed in the new Omagh Hospital and Primary Care Complex in Omagh, Northern Ireland – comply with health technical memoranda guidance note 63 in order to ensure safety and hygiene standards for patients and staff. GEC Anderson worked with main contractor McLaughlin & Harvey to provide a measuring and installation service over six months at the new hospital, which comprises eight buildings offering a range of healthcare services.

GEC Andersonderson
www.gecanderson.co.uk
Self-levelling floor compounds
Sika has launched a range of self-levelling cementitious flooring compounds and primers. All its Cementitious Level products are polymer-modified, pumpable self-levelling, fast-hardening, cementitious compounds used for the levelling and smoothing of interior floors in residential and commercial properties. The company claims the range is quick to apply, quick-drying and has low shrinkage, making it an ideal solution for high-traffic locations such as hospitals and healthcare facilities.
Sika UK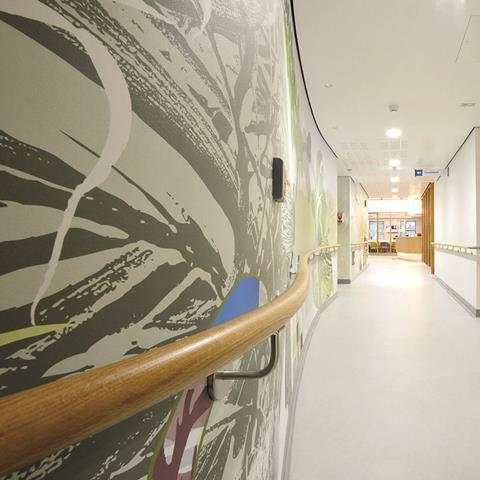 Wall protection system
CS Acrovyn wall protection, by Construction Specialties UK, has been used at the new Tameside Macmillan Unit. The unit will offer local treatment and support services for Tameside and Glossop residents who have been diagnosed with cancer. IBI Group's development of the new facility placed the patient at the centre of the design, which required wall coverings with bright colours and natural finishes. Construction Specialties UK's CS Acrovyn solution helped create a calming and non-clinical environment. As well as its impact-resistant Acrovyn sheets, the company supplied crashrails and corner guards, plus solid timber handrails specially formed to fit against the building's curved internal walls.
Construction Specialties UK