An automated waste collection system, circadian lighting to keep body rhythms in summer mode, and a range of solar collectors that harness the absorption properties of slate, are among this week's products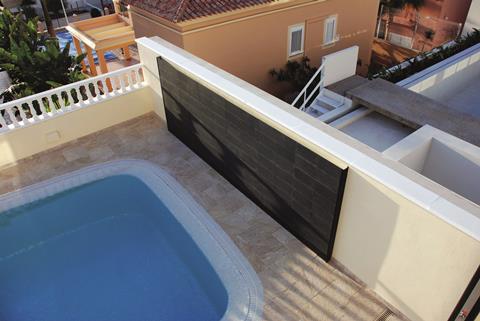 Solar collectors
Cupa Pizarras has extended its Thermoslate range of solar collector systems. It says Thermoslate Technical Solar Floor combines the aesthetic and design advantages of natural slate with the benefits of generating clean, renewable energy. The Thermoslate collectors are installed beneath natural slate tiles and harness the solar absorption properties of the material to deliver up to two-thirds of a household's heating and hot water requirements. Thermoslate is versatile in allowing the collectors to be installed vertically for wall cladding applications.
Cupa Pizarras
Movers and Makers
Wienerberger has launched its new Sustainability Hub. The hub provides a single, centralised online space from which to access case studies, reports and environmental product information from Wienerberger. On the hub can be found a range of information on topics such as energy efficiency, community engagement, product innovation and supply chain management. It aims to reframe the construction industry as a sector capable of having a positive impact on communities, individuals, and the environment.
wienerberger.co.uk/sustainability-hub
Geberit has expanded the capacity of its logistics centre in the southern German town of Pfullendorf, in Baden-Württemberg, investing around €40m in its storage, order picking and dispatch operation. The expansion enables Geberit to continue supplying products to its customers efficiently and reliably, so that Geberit can remain on top of the volumes resulting from the company's growth. Spanning 60,000m2, the logistics centre also now includes an automated small-parts warehouse, a new high-bay warehouse, a processing area with fully automated workstations and the expansion of the shipping area.
Actis has launched a user-friendly website aimed at helping architects, specifiers and builders choose the correct insulation and membranes for the job. The popular U-value simulator is still a core element of the site, enabling users to play around with different thicknesses of its honeycomb insulation panels Hybris, vapour control layer H Control Hybrid and breather membrane Boost'R Hybrid to estimate the likely achievable U-value. It provides a link to the BIM Object portal, enabling specifiers to create 3D representations of the finished project and its intervening stages.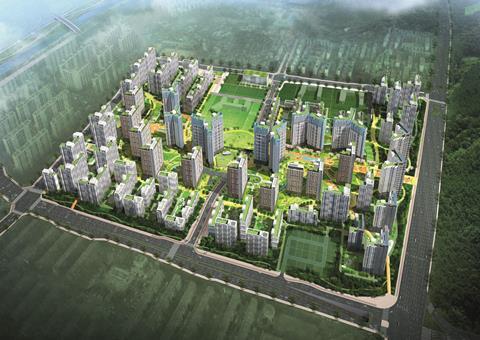 Automated waste collection system
Gangnam-Gu, the third-largest district of Seoul, South Korea, has chosen automated waste collection system specialist Envac to install an underground system that will span 399,741m2 on completion and include a subterranean pipe network that is more than 15 miles long. The 100-acre sustainable development consists of residential and retail units. On completion, the system will collect the waste of 6,642 residential units and 144 retail units – amounting to 6.5 tonnes of waste each day. Installation of the system, which is valued at almost £23m, is expected to begin during the first half of 2019; it will become operational at the beginning of 2022.
Envac
Dewatering pumps
Atlas Copco Portable Energy has expanded its offering for the dewatering market with the launch of more than 30 heavy-duty, high capacity pumps. This includes the addition of three high-flow models to its PAS range of centrifugal dry prime pumps. The company says the pumps are highly efficient due to their unique design. Dependent on the range, pumps can be supplied on a standard pump block, a basic or flexi-skid, or as part of a trailer, crate or fully containerised package. They can accommodate flows of up to 1,400m2/hr.
Atlas Copco
LED Lighting
Selux, which is the sole distributor of Filix luminaires in the UK, has introduced Filix's Arpool Linear Surface submersible LED luminaire. Arpool is a luminary with LED light source for underwater illumination. The body is made of in stainless steel with a glass surface and adjustable bracket. Its safety temperature switch limits operation while operating on dry surfaces and enables automatic switch-off.
Selux
Ironmongery
Allgood has provided its Alite ironmongery range for two modern, energy-efficient family homes. When designing the properties, environmentally responsible materials, products and processes were at the forefront of the specification. As well as the Alite range of ironmongery products, Allgood also supplied 26 door-sets, incorporating fully fabricated and finished flush doors with rebated frames to create a perimeter shadow gap. Allgood says its door-sets offer time savings because they arrive factory-painted and with hinges and locks already fitted.
Allgood
Heat pumps
Kensa Heat Pumps is providing its Shoebox ground source pumps as part of a pilot heating system for a historic village. The Burton Gardens ground source heat pump retrofit scheme is being piloted by leading social housing provider Stonewater, with the aim of providing residents with a warmer, cheaper home heating system that will save them hundreds of pounds annually on their energy bills. The Kensa Shoebox ground source heat pumps will replace residents' expensive electric night storage heaters and immersion hot-water heating systems.
Kensa Heat Pumps
Green roof
IKO Polymeric has provided its Armourplan membrane as part of a green roof installation at Illustrious House in Portsmouth. The main roof area was completed by installing a green roof overlooking a spectacular panorama of Portsmouth. IKO Polymeric's Armourplan membrane was used as the waterproofing below the green roof. Pre-installed sedum-filled units were chosen to speed up installation, with the units simply laid on the roof and clipped together.
IKO Polymeric
Metal baffles
Armstrong Ceiling Solutions has marked the first UK use of its wood-effect metal baffles in a £3.9m office refurbishment. The VP-500 vertical baffles with a US Walnut finish were specified by BPR Architects for Blake House (formerly Teal House), a three-storey office building on Cowley Business Park. The company claims the metal baffles enable easy integration of services and achieve the required acoustic level via the use of perforated sides and an acoustic inlay fleece.
Armstrong Ceiling Solutions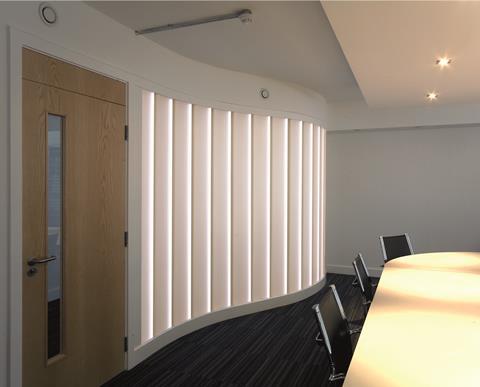 Circadian lighting
Lumaglass has launched a new lighting system. Soleil is a dynamic circadian lighting system that mimics the changes in the sun's natural light throughout the day. Glass systems in Lumaglass' Soleil range slowly evolve from a warm white at sunrise to a cool, bright white during the day then back to warm at sunset. The Lumaglass Soleil circadian lighting system has been created from our knowledge of circadian rhythms – the internal clock that controls when we feel tired or alert and energised. Circadian lighting can counteract the seasonal changes in the proportion of light and dark each day, correcting the tiredness we feel in the dark, winter months.
Lumaglass