This week's walls, ceilings and partitions products include curtain walling for an Eiffel-tower inspired building in Singapore and external wall insulation for a residential estate in Clackmannan
Double-sided sliding doors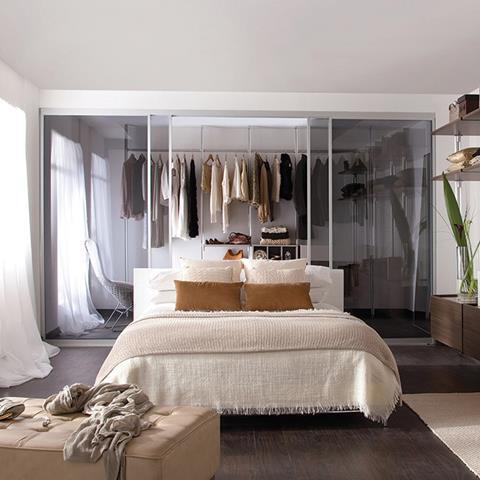 Spacepro Contract, the new build division of Home Decor following the acquisition of Portico Midlands, has launched new double-sided sliding doors for flexible living spaces in both residential and commercial builds. Switch, Domalti and Titan double-sided sliding doors are suitable for a range of applications, including room dividers within open-plan living, ensuite bathroom solutions and walk-in wardrobes. Varying materials are used creating a different look for each area.
Spacepro Contract
www.spaceprocontract.com
External wall insulation
Swisslab external wall insulation (EWI) from Alumasc has been used at Devonway residential estate in Clackmannan, Scotland. The properties are a mix of both private and social housing, consisting of over 140 terraced houses. Originally built using no-fines construction, the homes have recently received a range of energy saving measures including the installation of Alumasc's Swisslab EWI system, which contributes to lower energy bills for residents. The EWI was part of an energy efficiency package provided by Edison Energy and was free of charge to tenants and homeowners.
Alumasc
www.alumascfacades.co.uk
SFS panels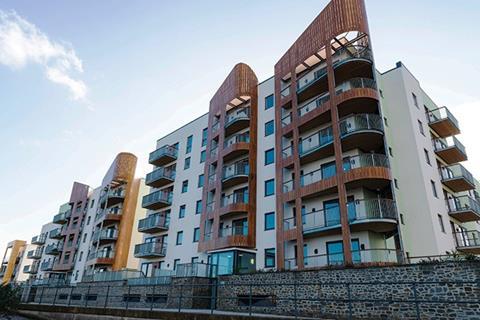 The final phase of Crest Nicholson's established development of new homes in Portishead, Bristol Ninety4 on the Estuary was built using SFS infill panels from Knauf. Consisting of 94 one and two-bedroom apartments, the development consists of three concrete-framed, four to six-storey high blocks. The SFS panels are constructed from floor to soffit of the primary structural frame, effectively infilling the external wall, and are insulated both on the internal and external faces. The external face of the SFS panels carries 125mm of insulation which is then protected by a rainscreen panel that is rendered with Knauf Render Systems.
Knauf
www.knauf.co.uk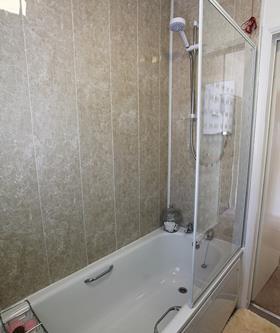 Wall covering
Part of an ongoing bathroom refurbishment programme, housing association Cartrefi Cymunedol Gwynedd has installed Marbrex as a wall covering in over 4,500 homes. Now in its fourth year, the programme has seen over 80% of residents choose Marbrex over a tiled alternative. The housing association conducted a value engineering project to determine the suitability of the cladding product prior to specification and chose Marbrex due to its cleanability, speed of installation and low maintenance benefits, which come with the elimination of grout and a reduction in condensation-related issues on the walls and the ceiling.
Marbrex
www.marbrexpanels.co.uk
New colour collection
As grey is proving to be a popular choice with interior designers and developers, Vicaima have launched five new finishes to satisfy the growing desire for these shades. The shades include Dekordor 3D Grey, Grey stained Oak veneer, Dekordor HD Dark Grey, Straight Line veneer Grey and Dekordor SD Grey Walnut, all of which are available as made-to-order products to individual project requirements such as partitions and sliding doors. The products are embossed with a tactile surface, displaying a horizontal grain design, and are available either lipped or edge banded and as part of a complete door and frame assembly.
Vicaima
www.vicaima.com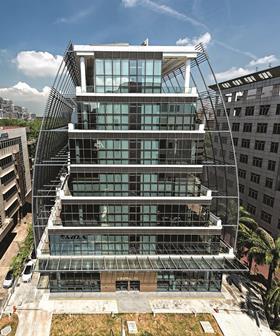 Curtain walling
Reynaers curtain walling has been chosen for an Eiffel tower-inspired building in Singapore's Bukit Merah industrial area. Incorporating full glass facades in Reynaers CW 60 curtain wall, the modern, eight storey, tiered building consists of 46 business units. It combines clean, open design with spacious external areas. The thermally improved curtain wall system with opening vents has 60mm inside and outside visible widths, complementing the open design and facilitating maximum light penetration into the heart of the building. On both sides a full height brise soleil installation alleviates solar gain and glare.
Reynaers
www.reynaers.co.uk
New composite ceiling panels
Hunter Douglas has launched new XLnt composite ceiling panels, with a swing-down system with an absorption value of aw 0.75 and A2 Eurobrand classification. The layered composition gives the panels an enhanced stiffness, largely a result of the honeycomb aluminium inside the panels. Even the largest sizes available, measuring 1.25m by 2.5m are claimed not to bend or sag. This offers architects more freedom in creating their own designs without tensile stress. The flatness of the XLnt panels, in combination with their measurements and the small seam running around each one, ensures an aesthetically attractive and smooth ceiling design.
Hunter Douglas
www.hunterdouglas.co.uk
Movers and Makers
Spectus Window Systems has launched its latest edition specification guide - version 7. This quick reference tool has been created to assist those involved in the specification of products to the construction industry. The specification guide is available in hard copy format, on a USB card or as a download.
SAS International supplied its products to One Pancras Square and Brent Civic Centre, London, both winners at this year's BREEAM Awards. David Chipperfield Architects' One Pancras Square, a commercial office development, features 5,120m2 of SAS International's active chilled beam Integrated Service Modules and metal ceiling systems 200, 205 and 330.
Leading interior systems provider Armstrong Ceilings has launched a free app to help customers access their systems on the move. The app enables smartphone and tablet users to preview and download information such as brochures, installation and maintenance guidance, guarantees, datasheets and more than 20 case studies.
British Board of Agrément (BBA) has certified the Safeguard Europe's Dryzone express replastering system, which enables a skilled operative to treat rising damp, re-plaster and complete redecoration in 24 hours. The BBA issued its certificate for use on existing internal walls as an effective barrier against salt and moisture transfer following injection/insertion of a chemical damp-proof course system as well as for damp and/or salt-contaminated chimney breast walls.
Structherm has been awarded two new BBA approvals for its Thermaphon NSC2-MW external wall insulation system and under product sheet 2 for its structural mineral wool external wall insulation system for solid wall structures.