Bosses of employee-owned companies claim greater engagement and increased profitability. So why isn't everyone doing it?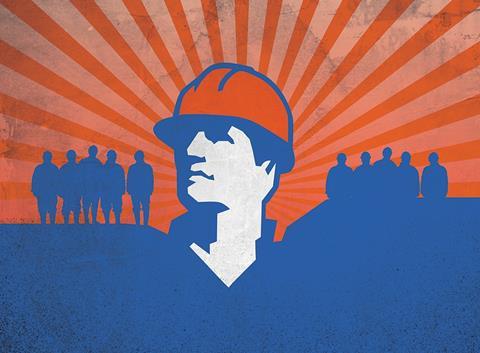 Contractor Murphy Group rarely hits the headlines. Founded in the 1950s by the late John Murphy, an Irish emigrant who cut his teeth in London clearing unexploded Nazi bombs, the firm discreetly and steadily grew into a £665m-turnover family-owned contractor. During his 95-year life John Murphy, who died in 2009, never talked to the press and once joked "no one has ever managed to take a snap of me".
So it's been rather a shock to find Murphy Group making headlines in recent weeks. The reason? John Murphy's daughter and one of his heirs Caroline Murphy sensationally quit the firm last month after she failed to persuade the rest of her family to transfer ownership to its 3,500-strong workforce, releasing a statement expressing her disappointment and thrusting the company reluctantly into the media spotlight.
But for much of the rest of the industry, even more shocking than Murphy Group national newspaper headlines, was the notion itself - an employee-owned contractor. Really?
While there are a number of sizeable employee-owned UK engineers and architects - among them Arup, Mott MacDonald and Make - there are no major UK employee-owned contractors. The only known UK contractor of any scale that is part-owned by its employees is Lincolnshire-based £90m-turnover Lindum. Indeed over the last 30 years, the trend in UK contracting has been for power to shift away from workers to contractors' management through the rise of subcontracted labour and de-unionisation. Yet overseas there are many examples of thriving employee-owned contractors, such as the £250m-turnover construction division of workers' co-operative group Mondragon based in Spain's Basque region, which Murphy says inspired her proposal for the family firm. In the US there are three employee-owned contractors with a turnover of more than £1bn - Black & Veatch, Hensel Phelps and Kiewit, the largest with a £7.4bn turnover, making it the third largest builder in the US.
But with the UK's biggest employee-owned business - The Co-op - currently in the news for all the wrong reasons, is the employee-ownership model a realistic proposition, if not for Murphy, then for other contractors in the UK? How could it work, and what are the arguments for and against?
How could it work?
There are various models for employee ownership. At one end of the scale is the workers' co-operative, where ownership and decision-making are shared among all of a company's workers. This is the model used by Mondragon. Every worker gets an ownership stake in the business and also gets to elect the firm's chief executive and a supporting "governing council" on a "one member, one vote" basis. Wage scales are typically limited by a ratio, with the leadership team's salaries restricted to a certain multiple of the firm's lowest wages, typically ranging from 1:1 to 6:1.
Mondragon is a €14bn-turnover (£11.6bn) group of Spanish co-operatives employing 80,000 workers, including the country's biggest retail chain and its third biggest bank. Mondragon's 6,000-strong construction division includes scaffolding, mechanical, electrical and lift manufacturers, as well as an engineering consultant with 400 staff that works on major projects including World Cup stadiums in Brazil.
Workers vote on company strategy, pay and leadership annually and vote in a governing council of 10-12 members who steer the firms throughout the year. Mikel Lezamiz, director of co-operative dissemination at Mondragon, says the group welcomes "many delegations from the UK" interested in adopting its model.
Our employees work harder because they have a stake in the company in which they work, without a doubt

David Chambers, Lindum
Further along the scale from the workers' co-operative, different employee-ownership models involve transferring varying degrees of ownership and decision-making powers to workers. Under these models, ownership is either transferred directly to workers, or indirectly through a workers' benefit trust. For instance, US contractor Kiewit is 100% owned by its workers, while the UK's Lindum is 25% owned by its employees, with the remainder owned by its directors. In the workers' benefit trust model shares are locked into a trust, rather than held by workers directly. This is the model used by Arup and retailer John Lewis.
The difference between these models and the workers' co-operative is the level of control workers have over the management of their firms. Unlike a workers' co-operative, workers do not elect a leadership team on a one member, one vote basis and salary levels are not usually capped. Instead, workers typically exercise influence over company strategy at the firm's annual general meeting.
Iain Hasdell, chief executive of the Employee Ownership Association (EOA), says a contractor would achieve a change in ownership structure "through some kind of transfer - either a sale or a gift, or a mixture of both". Caroline Murphy is proposing selling workers shares at heavily-discounted prices, with the aim of transferring at least her 20% stake in Murphy Group directly into an employee share ownership scheme that would create an ownership structure similar to Lindum. Murphy, who was deputy chairman of Murphy Group, told Building at the time of her resignation she was "committed to using any influence I have" to affect the change and would continue to petition the family-owned Maryland Trust that owns the firm. She is "hopeful" the trust will change its stance. "My proposal is for employee ownership to make a start," she says. "Once it's there and real it will be easier to see what it would look like scaled up. It would be a step on the road [to full employee ownership]."
Why do it?
Supporters of employee ownership argue firms can reap commercial benefits down the line. Hasdell says EOA research has found in each of the last 19 years employee-owned businesses have out-performed the all-FTSE index. "It's a financially high-performing sector," Hasdell says. "It delivers higher productivity, greater innovation and better financial performance." Hasdell points out "many of our biggest construction projects have been overseen by employee-owned firms", including Arup and US employee-owned consultant CH2M Hill on the London Olympics and CH2M Hill on Crossrail. "It's a growing part of the construction industry rather than a shrinking one," he adds.
David Chambers, chairman of Lindum, says his firm has "never looked back" since his family gave a portion of its shares to employees in 1993, starting with a 3-5% share issue which has grown to 25%. The firm has turned a profit in each of the 21 years since the move. "It's been a great success in so many ways," he says. "Our employees work harder because they have a stake in the company in which they work, without a doubt. The sort of people we employ - bricklayers, joiners, electricians, roofers - they're not used to being given the opportunity to run things. You end up with a very valuable commodity in terms of their engagement." Of Lindum's 495 employees, 420 are shareholders, and 265 came to the firm's last AGM.
What are the problems?
Chambers says he is "delighted" with Lindum's model. So why does he think no UK contractors have followed suit? "I think a lot of companies in Britain tend to grow in order to sell up," he says. "I don't think that's very good. The idea should be to create something sustainable."
Undoubtedly the biggest hurdle for contractors wishing to transfer ownership and sell shares to workers is gaining shareholders' approval. Because shareholders are unlikely to secure a better price than on the open market. "The truth of the matter is you're giving up something for nothing," says Kevin Cammack, analyst at Cenkos Securities. "Shareholders would vote against it."
Cammack argues "the bigger the firm the harder it gets to do a transfer" as it brings in more shareholders with a stake to lose. But he notes family-run firms like Murphy Group are hardly more likely to agree on a transfer, even where shares are limited to a small group. "Even in a family, when it comes to money it's amazing how disunited it can be," Cammack says. However, he adds there is sometimes a window of opportunity for contractors planning to float on the London Stock Exchange. These firms can offer "beneficial terms" to staff before an initial public offering, as housebuilder Crest Nicholson did last year.
My proposal is for employee ownership to make a start. Once it's there it will be easier to see what it would look like scaled up

Caroline Murphy
In addition to practical hurdles, there are genuine concerns over how employee-owned firms are managed. The travails of the Co-operative Group, which last week lost its chairman Lord Paul Myners amid a review of how it ought to be governed, has cast an unflattering light on the sector. The Co-op is the largest co-operative in the UK and managed by a Byzantine system of eight million members, 80 or so member societies and elected area committees, regional boards and ultimately a group board. Chief executive Euan Sutherland quit last month, slamming the sprawling structure as "unmanageable".
Paul Sheffield, outgoing chief executive of Kier, says The Co-op's saga shows that if you do plump for an employee ownership model "you still have to run a business along professional lines". "You can't have a plethora of opinions on hand," he adds. "You still need an executive team that can make the decisions, although [the top team] could be elected."
Sheffield says one potential drawback of employee ownership is it makes it "more difficult to raise capital, which clearly makes acquisitions much harder". "If you are a public company you can raise cash by a share issues and you can do it quite quickly. With employee ownership it could be quite difficult," he says. But this is less of an issue for contractors, which require less financing than investment-heavy business, and Sheffield has time for the idea: "In principle it can [work] because contracting is by and large a cash generative business, therefore you don't necessarily dig deep into the pockets of the shareholders [to run] the business." He points out Kier was initially up to 90% employee-owned in the five years after a management buy-out from Hanson in 1992, although this employee-ownership share has dropped to 5% today, following its listing on the London stock exchange and lots of workers cashing in on shares.
As with any ownership model, employee-ownership has potential pitfalls. But with UK consultants starting to emulate employee-ownership models seen overseas, perhaps it isn't so fanciful UK contractors could do the same.