The good news for construction is that post-lockdown there is now burgeoning demand – above all in housing and commercial. The bad news is that there are nowhere near enough people to do the work.Tom Lowe looks deep into the hole in which construction finds itself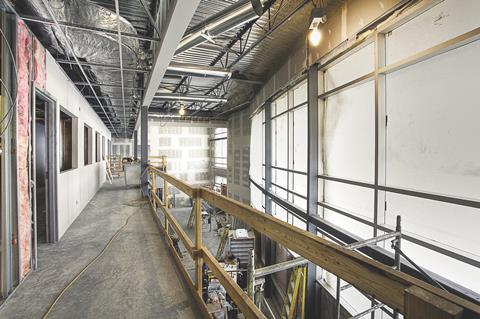 Azad Azam is the founder of Design Plan Build (DPB), a £1.3m turnover contractor which builds mostly small housing schemes in London. Over the past six weeks he has been trying to increase his 16-strong workforce by 11 to take on a larger project than usual, a 47-home apartment scheme in Walthamstow. He had already priced his bid based on his expectations of how much it would cost to hire the extra workers, but the post-lockdown labour market had other ideas.
"We just can't get them," he says. "The prices that people are asking now, and the amount that we'll need to pay to get people to leave where they're working and come to us, makes it uneconomical". Last week, he met the client and said that he would have to turn the job down because he could not get the resources. "There's a massive, massive labour shortage," he says.
A few weeks ago, three skilled workers joined the team from another firm. They had left their previous jobs when their boss refused to give them a pay rise. Three days after arriving at DPB, their previous employer relented and offered them the salaries they wanted – which Azam says were above £40,000. "I can't pay you that," Azam told them. "I thought they might be calling my bluff. So they left."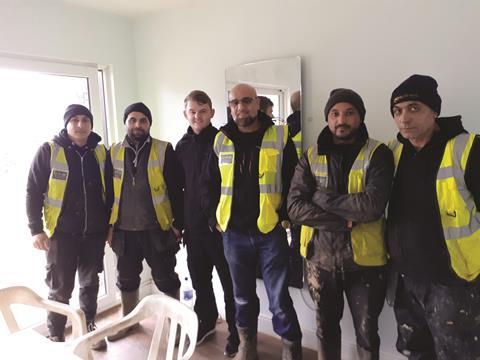 According to Azam, the same workers' salaries would have been in the £30,000s just a year ago. Since the start of the pandemic, the wages that he pays for ad hoc staff have gone up by a minimum of 20%. Data published last month from self-employed payroll provider Hudson Contract showed that the weekly pay of bricklayers had jumped by nearly 40% in the 12 months to April 2021, while M&E operatives had seen their wages go up by 23%.
It has happened at a time when the purse strings of clients across the UK have been loosened, unleashing a torrent of construction work – new orders have soared for four months in a row. A record 47% of respondents to the latest IHS Markit/CIPS UK construction PMI survey reported higher volumes of work, with housing the strongest-performing sector, while commercial schemes increased at their fastest rate since August 2007.
But the same survey found that the overall rate of input price inflation was the highest ever seen in its 24 years of data collection. Just like the materials shortages which have troubled the sector in recent months, labour supplies have failed to keep up with the now unprecedented levels of demand.
In the six months between May and November 2020, recruitment specialists Randstad posted 43,000 jobs in construction, property and engineering. In the six months between December 2020 and May 2021, the number was over 60,000. But, while the firm fielded nearly 370,000 applications for these roles between May and November last year, there was a 16% decline in the number of applicants between December and May this year, with fewer applicants competing for nearly twice the number of jobs.
Unprecedented levels of demand affecting the price of supplies like timber, steel, cement and electrical components are reflected in the demand for people. Employers are clearly struggling to recruit
"The labour shortage has ramped up," the firm's senior director of operations Adrian Smith says. "The unprecedented levels of demand affecting the price of supplies like timber, steel, cement and electrical components is reflected in the demand for people. Employers are clearly struggling to recruit."
Barrier to growth
The time that it takes to fill roles is also increasing, with the time taken to recruit white- collar roles going up from two weeks to three in just the past month. Data from recruitment firm Hays last month revealed that temporary job registrations had increased by over 50% in the preceding six weeks, while permanent job registrations had shot up by 55%. Smith adds that if building firms cannot get the staff, some are "inevitably" going to have to delay projects, while others could be forced to shut.
BIG NUMBERS

40% Weekly pay increase for bricklayers over 12 months to April 2021
47% Proportion of survey respondents reporting higher volumes of work
-16% Decline in number of job seekers applying for work in the sector
217,000 Additional workers needed by 2025 to meet demand
32% Proportion of workforce aged over 50
Sources: IHS Markit/CIPS; Hudson Contract; Randstad; CITB
A recent survey by the Federation of Master Builders covering the first quarter of this year found that 38% of its members were reporting bricklayer shortages, up from 22% in the last quarter of 2020, and 34% were struggling to hire carpenters and joiners, up from 23%. Its chief executive Brian Berry says the growing shortages are a "barrier to growth for many local builders and will, if left unchecked, restrict construction's recovery following the pandemic".
Like the materials shortages, the increased demand for labour has been compounded by a shrinking supply. Construction employment in the first quarter of 2021 was still 7% below pre-covid levels and 11% below the recent peak in the first quarter of 2019, according to the latest official data. The extension of the furlough scheme is not helping – there were still nearly 170,000 construction workers furloughed at the end of April this year, 13% of the sector's workforce. Some 30% of construction companies, nearly 73,000 firms, are still using the scheme, effectively locking out huge numbers of much-needed labour from full-time employment. Those working in construction have also made the highest number of claims from the self-employment income support scheme at 1.2 million, with 1 million of these being eligible.
Furlough, which saved the skins of countless firms when it was first introduced, now risks dampening the recovery it was originally designed to support. "At the time, the job support scheme delivered," Randstad chief executive Victoria Short says. "But people currently sitting on furlough might otherwise be motivated to fill vacancies."
Problems exacerbated by Brexit
An exodus of foreign nationals, 1.3 million of whom have left the UK over the past year, is another factor contributing to labour shortages. Over the past four years the EU construction workforce in the UK has declined by 54%. London, where one in three people working in the construction sector was born in the EU in 2019, is the hardest hit region.
"Employers across the UK can no longer rely on overseas workers to plug gaps in their workforce," Short says. Workers returning home to their families during the pandemic is one driver behind emigration. The other is the new post-Brexit immigration system, and changing attitudes among immigrants to a native UK population which increasingly looks like it does not want them to come.
Azam lost 12 of his foreign-born workers at the start of the pandemic when they left the UK to return to their home countries. Out of the eight who are still abroad, two have confirmed that they are not coming back, and six are weighing up whether to return to the UK or find work in another country within the EU.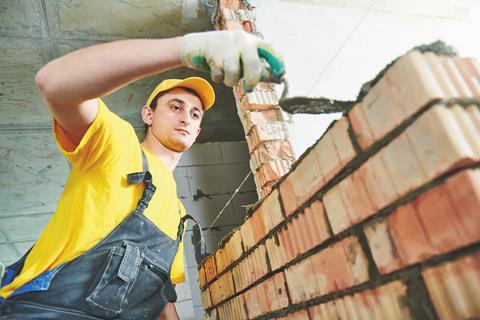 Building interviewed some of DPB's Romanian workers in February 2020, a month before the start of the first lockdown. Site manager Alin, 32, had been granted settled status under the new immigration rules and was trying to persuade his wife to join him in the UK with their two children. He has now returned to Romania, and, according to Azam, his wife is now firmly set against moving to London. "She thinks people in the UK are all racists and they don't want us, she thinks the kids are going to have problems at school, they're going to be bullied. It's not a work or money thing, it's a social thing."
Not all UK firms are having the same experience with losing staff. Mace chief executive Mark Reynolds told Building that the firm was not seeing any significant drop-off in its foreign workers, who have stayed at the same percentage of its headcount as before the pandemic. He thinks this could be because, unlike other sectors, construction stayed open during lockdowns. "I think what we're seeing is that foreign workers in the UK haven't gone abroad, or they've come back and stayed here. And I don't see that changing drastically this year, and I think we're hopefully going to be back to normal by the back end of this year."
> Also read: We now have a serious skills crisis on our hands
> You can't build, build, build if you don't have the materials
Reynolds does admit that there were concerns that some foreign workers would go home during the summer and not come back. Dean Averies, director at regional contractor Beard, said that many foreign workers were just overdue a holiday to see their families after being prevented from travelling during the pandemic.
"And they're not just talking about a short-term holiday," he says. "They're talking four or five weeks, which could have a significant impact in the short term for the summer."
But the shortages are not limited to the UK. The US Chamber of Commerce warned of a "national economic emergency" at the start of this month. It said that there were now half as many workers available to fill vacancies in the country as there have been on average over the past 20 years, and that businesses of all sizes and across every industry in every state are reporting "unprecedented challenges" filling open jobs.
The risks to construction
So how much of a risk do the shortages pose to the UK sector over the coming months? Construction Products Association economics director Noble Francis says it is too early to tell if they are a greater threat than material shortages, but, while neither is likely to halt firms in their tracks, they do risk constraining the rate of growth.
The longer-term impact could be the greater worry. According to a forecast published by the Construction Industry Training Board (CITB), UK firms will need to find 217,000 more workers by 2025 to meet demand – an additional 54,000 a year. The Construction Leadership Council (CLC) has also called on the government to back a colossal £525bn retrofit programme over the next 20 years which would require the existing construction workforce to be "more than doubled" to 500,000.
This would be a challenge given the loss of foreign workers, but there is also a demographic timebomb under way. Nearly a third, 32%, of the workforce is over the age of 50, according to figures presented by Sarah Beale, the CITB chief executive at a recent CLC webinar. This means that the sector is set to lose some 500,000 construction workers over the next 10 to 15 years. Currently, less than half of the 36,000 people in construction further education end up getting a job in the sector. To get anywhere near the numbers needed, it is clear that there will have to be a mammoth recruitment drive.
The CLC is confronting the task with a skills plan to attract more people into the sector. The plan, the first to cover the entire industry, aims to open up the traditionally male-dominated sector to a greater diversity of people.
The CLC also wants to develop clearer career pathways to tackle the perception that construction offers only low-paying, low-skilled jobs. A range of programmes launching this year include new construction traineeships, a fairness, inclusion and respect programme for 3,000 firms and a talent retention scheme, along with government training schemes such as Kickstart and Bootcamp courses.
The urgency is recognised right across the sector. David Smallcombe, managing director of his own SME housebuilding business, told Building that a "fundamental reform" was needed to reverse skills shortages, adding that the key challenge is to drive up the quality of training and professionalism.
For Redrow's group chief executive Matthew Pratt, this would still not completely solve the problem. He says that foreign labour will still need to "continue to play an important role" and called on the government to ensure that overseas workers can continue to work in the UK. The constant refrain from the Home Office, seemingly oblivious to the threat labour shortages pose to the government's own policy commitments, is that it wants UK employers to "focus on training and investing in our domestic workforce".
For now, firms will have to find short-term solutions. "If you know what you're doing – and we do – it is still possible to find the right people", Randstad's Smith says. But, with new orders increasing by the day, the question is how long this will last.