The Stirling prize victor is announced, Arsenal and Spurs are locked in a contest to be the biggest as well as the best and Cemex deserves a prize for its efforts to protect cyclists on the roads
Picture this
We've all been there. Crafted a fine piece of prose, only for a glitch to reduce the reader to a fit of the giggles. One of my writers was rather tickled by an otherwise well-meant press release from Barratt Homes, lauding the achievements of 21-year-old apprentice Darias from the firm's Scottish operation. The young man had won Apprentice of the Year at Barratt Homes' National Annual Customer First Awards – thoroughly deserved by all accounts; we send our congratulations. But we would also like to bend the ear of the firm's City PR team, which instead of attaching a photo of a proud Darias receiving his award, enclosed the headshot of a young woman whose relation to the story was a mystery that bemused us for hours …
Pitch battle
Has a renewed fight of football stadium seats in north London begun? Arsenal has just announced plans to increase capacity at its ground to 60,600 – still short of the 61,559 being built at arch-rival Tottenham Hotspur. Spurs have pretty much admitted they went for this rather odd number simply to get one over those at Emirates. Designer Populous must be hoping the spirit of competition pushes both teams to increase capacity further, given it is working on both Spurs' new ground and the expansion of Arsenal's. It's the architectural equivalent of goalkeeper Pat Jennings, who bravely switched between the sides in the 1970s and 1980s.
No-win situation
Last week's Stirling prize award ceremony took place at the Roundhouse in north London and I'm afraid its timing was somewhat unfortunate. Not only did it clash with Halloween but it was also up against the final of the Great British Bake Off TV show and in the Hansom household there was only ever going to be one winner – not Hastings Pier. But, thanks to an indiscreet tweet from Bake Off judge Prue Leith, which revealed the winner hours before the programme aired, I was forced – rather like Terry and Bob from 1970s sitcom Whatever Happened to the Likely Lads? who went an entire day trying to avoid the England football score only to find out the match had been called off – to spend most of last Tuesday giving a wide berth to anything that might have told me who had won.
Safety first
Fatalities among cyclists following a collision with a heavy lorry are thankfully few in number, but the 18 such deaths recorded in the UK in 2015 were clearly 18 too many. Mindful of playing its part in road safety, building materials firm Cemex teamed up with driving course provider Fleet Source to provide its 340 drivers with the latest training and awareness techniques to use on the road. Simon Spelman, Cemex's area logistics manager, took the course and found it to be "hugely beneficial", adding: "It certainly opened my eyes to the issues of cyclists versus the motor vehicle." Such an exercise is to be heartily applauded – well done Cemex, I say.
A fiesta for Fiestas
One of my hacks was on his way home recently and saw a number of Ford Fiestas parked outside the Zaha Hadid-designed London Aquatics Centre. It was on a giant billboard, and he wondered what it was all about. The comms manager of car giant Ford said the ad – showcasing how society, people and technology have evolved since the first Fiesta hit the road in 1965 – was "an ode to British progress in all its day-to-day glory". Didn't costs on Hadid's building rocket from £75m to £269m? Some might remark that on that front, progress in construction has remained very much stuck in first gear.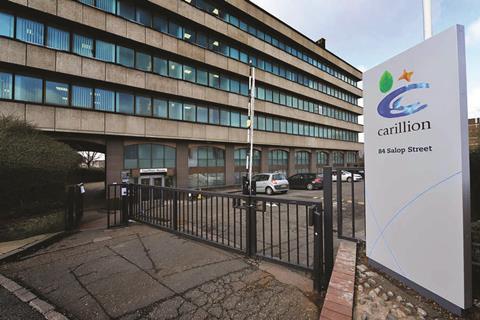 Location, location
Will new Carillion chief executive Andrew Davies swap leafy Surrey for the grittier environs of Wolverhampton? It's Davies' last day today as boss of Leatherhead-based Wates before taking up the reins at the UK's second-biggest builder next spring. My mole reckons not, because Davies' wife has a flourishing career down south as a consultant. Back in its Tarmac days, the company was headquartered at the grade-I listed Hilton Hall – complete with helicopter pad – on the outskirts of Wolves. That went when the firm split in 1999, with Carillion now billeted in a less stately 1970s office block built for a former building society. Handily, one wag noted, it's about a 10-minute walk away from the local job centre.
Send any juicy industry gossip to hansom@ubm.com