Long-running problems mean nothing is going quite as it should – the V&A Dundee is impressive but also impressively over budget, Interserve runs into fresh trouble and Alok Sharma fails to show up at Mipim
Oranges are not the only bookmarks
Putting together a book on modernist architectural heritage can be … frustrating, if the experiences of those behind Manchester Modern are anything to go by. Contributors at an event in London last week to mark its publication "shared their own stories of blood, sweat and tears" after spending two decades on its creation, according to one of the more hyperbolic utterances from the press release. Perhaps they could have been a little less picky. One of the contributors, designer Vaseem Bhatti, delayed the tome's production while he scoured the world to find the perfect orange ribbon for the page marker. No kidding. And they say working down a coal mine is tough …
A new kind of green office
The British Council for Offices (BCO) has revealed the three finalists in its competition to predict what the office of the future – well, in 2035 – will look like. The teams –88mph, Four Future and GTASC – were commended for their "clarity of thought" and showing "how innovation and creativity can solve complex problems and turn challenges into industry opportunities". Readers can make their own minds up about the three ideas by going to the BCO's website. I was enamoured by Four Future's offering, the Nest, featuring a series of structures and open spaces around the Greenwich Peninsula, including a "public meadow" being placed over the roof of the O2. Perhaps they could host cheese-rolling contests down its slopes, akin to the infamous competition at Cooper's Hill in Gloucestershire. It would be a brie-eeeze. I'll get my coat.
What a waste
"I'm confident we have thoroughly reviewed things and are beginning to draw a line under that and move on." These words were spoken to one of my hacks last August by the then Interserve chief executive Adrian Ringrose about its botched foray into the energy-from-waste market in general and one scheme, a project in Glasgow, in particular. The Glasgow job alone – where the firm … how can I put this? … parted ways with the client last November – was supposed to be costing it £70m. Lord knows what that sum is now, given that Interserve earlier this year said the new cost of getting out of the entire sector was £160m. Last week it admitted this figure had gone up again, by a further £35m. Ringrose is no longer at the firm – the news of his departure coming the day before it was handed a very public dressing down by its Glasgow client – but new chief executive Debbie White must be wondering what on earth she has walked into.
A prior appointment
Housing minister Alok Sharma sidestepped his first appearance at a Mipim event last week when he was a no-show at the property shindig's event at Olympia London. My hack tells me it was the tried-and-trusted "urgent meeting" that scuppered his chance to visit the venue on a grey afternoon in west Kensington. Turns out Sharma, who took over the brief in June, was instead having to stand at the despatch box answering questions about the government's crackdown on property managing agents. This sounds like a convincing excuse, but I did wonder whether, had he been scheduled instead to speak at the show's main event by a sunny beach in Cannes on the French Riviera, he might have managed to tear himself away from such onerous duties.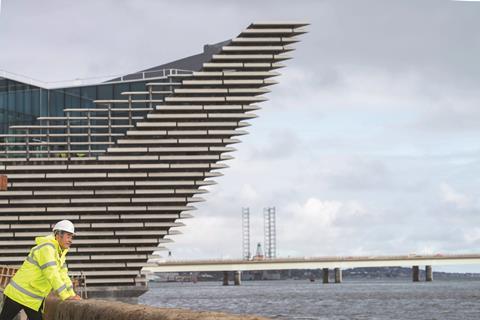 A rocky project
I see that Kengo Kuma, the Japanese architect behind the V&A's new outpost in Dundee being built by Bam, dropped by last week to see how work was progressing ahead of its opening next year. He says his vision for the scheme, the V&A Museum of Design, Dundee, to give it its full title, was inspired by Scotland's cliffs. Which is apt really, given that the budget for the scheme seems to have also fallen off, well, a cliff. Its initial price tag was £27m, which by my reckoning means the current £80m price tag is nearly 200% more than originally envisaged.
Send any juicy industry gossip to hansom@ubm.com