This week, a poet takes a verbal swipe at a developer, we bemoan the lack of boozers on new housing developments and have cause to doubt a 'sporting great', but Barratt just can't say no to Theresa May 
Poetry with a purpose
It was National Poetry Day recently, and to celebrate, one of my more cerebral colleagues saw the alternative poet John Cooper Clarke at the Royal Albert Hall. Some of Clarke's output featured rather "racy" language but my colleague has a strong constitution and was somewhat enamoured of the chap's revamp of his poem 'Beasley Street', entitled 'Beasley Boulevard'. It featured a nod to Manchester developer Urban Splash, which was founded by rakishly tilted hat enthusiast Tom Bloxham. The poem was dedicated – and I quote – to "the urban splash regeneration generation". I get the impression Clarke didn't include it as a compliment.
A legend for other reasons?
I see football manager Roy Hodgson was down to speak at a conference on technological innovations in the sports infrastructure industry last week. The blurb lists him as a "sporting great", but I'm not so sure. His last match in charge of England was a beating by Iceland last summer that was not so much eating a slice of humble pie as a three-course meal with after-dinner speeches, and at the time of writing his reign at new club Crystal Palace reads: played three league games, won none. A Liverpool-supporting colleague reminds me he was in charge of that club as well. "He was useless," he adds for good measure.
Intellectual vanguard
For years, the species known as "white van man" has had a bad reputation, caused in no small part by its dodgy driving technique and penchant for waving two fingers out of its vehicle's window at anyone taking issue with being cut up on the roads. But the image of the belligerent motorised thug could be transformed, thanks to the hunt to find "Britain's brainiest van driver". Van leasing outfit LeaseVan.co.uk wants drivers to send in a photo of themselves enjoying – and I quote – "their favourite brainy pastime". The contest's organisers say they want people to know that "driving a van is a noble profession and many such drivers are smart and highly successful". So if you're combining delivering goods across the UK with studying for an MA in politics, philosophy and economics, you know what to do.
Boozing like it's 1969
Like many of you, I'm an admirer of the public house, a place where men and women can go to relax, enjoy each other's company and drink the tipple of their choice. I have often pondered on the lack of such establishments in new housing developments. One sees all sorts of leisure facilities in newly built housing schemes – gyms, bicycle parks, cinemas and so on – but ne'er a sign of a pub. Perhaps with Theresa May's new-found enthusiasm for council housebuilding, we can look forward to a rash of new flat-roofed boozers springing up across the land, replete with Watney's Red Barrel, Worthington E ("Goes down easy!") and bottles of Campari.
A lucrative profession
Who says architecture (and journalism, for that matter) doesn't pay? I was reading an online magazine about furniture, and one of the features was about the best places to live in London. Interior designer Faye Toogood took up the story for Highgate, a posh bit in the north of the capital. Lots of media types and architects live there, she tells us, and Highgate School seems to be a popular choice for folk in the area to send their kids to. With fees at a little over £20,000 a year, I can see why cash-strapped architects and hacks are making a beeline for such a bargain.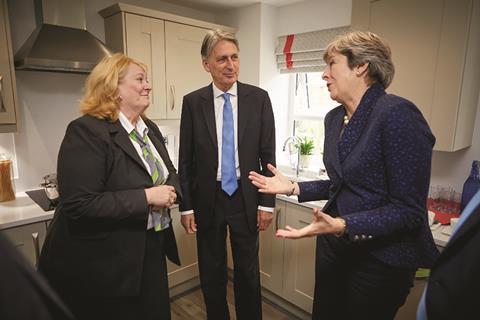 Maybe not this time
After her disastrous speech at the Tory party conference last week, I would have thought most firms would run a mile from Theresa May. Not so Barratt, the country's biggest housebuilder. The very next day, the firm sent out a press release showing the hapless PM visiting one of its sites. It was to highlight news about increased funding for the government's Help to Buy initiative and showed May looking awkward while having to talk to a real person – presumably a Barratt employee – in Manchester. Perhaps Barratt was cajoled into sending out the release by the Maybot's office as they read that morning's less-than-flattering newspaper headlines. I'm surprised the firm chose not to reply: "We'll get back to you on that, Theresa."
Send any juicy industry gossip to hansom@ubm.com