This week there's an invitation to Jean Nouvel's Abu Dhabi Louvre, tales of romance from RSHP, a dinner date with Redrow, some long-distance love between London and New York, and a mysterious career move
We're washing our hair
I think I'm reading this right but one of my hacks has been handed an invite to the opening of Jean Nouvel's Louvre outpost in Abu Dhabi. When the Paris museum unveiled its plans for an Abu Dhabi version way back in 2007, it said it would open in 2012. That came and went, as did other dates in 2013, 2015 and 2016. But now it seems it finally is happening. There's just one problem for us at Building. The press preview is being held on the day of our annual Building Awards. So we can't go. Timing, as they say, is everything.
Office romance
I was amused to read architect Ivan Harbour describing his 30-year relationship with fellow RSHP partner Graham Stirk as "like being married". Harbour then told the story about how he met his actual wife, an Australian. A qualified paediatric dietician, she nonetheless took a temp job as a receptionist at Richard Rogers' London office. How come? "She was advised to work there by a friend because there were a lot of single men working there," says Harbour, who must have been among the most eligible. Next year they will celebrate their silver wedding anniversary. That's no mean feat given that he has spent a large chunk of that time on planes to her homeland without her – for site visits to one of the practice's biggest jobs, the $6bn (£5.13bn) Barangaroo masterplan in Sydney.
Thanks for the memories
John Tutte, chief executive of Redrow, hosted a dinner for industry hacks in London last week, the first time the housebuilder – deemed by Building magazine's Top 150 to be the UK's sixth largest in terms of turnover – had held such a gathering since Steve Morgan founded the business 43 years ago. Tutte admitted it was also his first time in that particular restaurant, housed within the walls of Somerset House, although he was more familiar with other locations north of Waterloo Bridge. "I studied civil engineering at King's College, next door," he told our scribe. That was four decades ago, yet despite his successful career he hasn't made it onto the institution's street-level windows, which famously carry images of past students including Archbishop Desmond Tutu, the Duke of Wellington and, I was surprised to learn, journalist Martin Bashir.
Special relationship
To the opening of media giant Bloomberg's new building in the City of London where the one-time mayor of New York Michael Bloomberg and the project's architect Norman Foster were on hand to show assembled guests around its 10 storeys. The 200-odd visitors were greeted with slices of pizza when they got there in the morning – which I suppose is a little different to the bacon sarnies we're more used to on this side of the pond. Apparently Bloomberg said he wanted to bring a bit of New York to London. Just as long as we don't get a Trump Tower as well, I say.
Tempted by the fruit of another?
What to make of Ian Holcroft's switch from Laing O'Rourke, where he was procurement director and in charge of the supply chain for its JV at the Hinkley nuclear power station in Somerset, to, in the words of analyst Kevin Cammack, "the far smaller Murphy in the same role"? Cammack thinks he might have an answer. "Laing O'Rourke is not a happy camp – or Murphy is paying the industry golden hellos."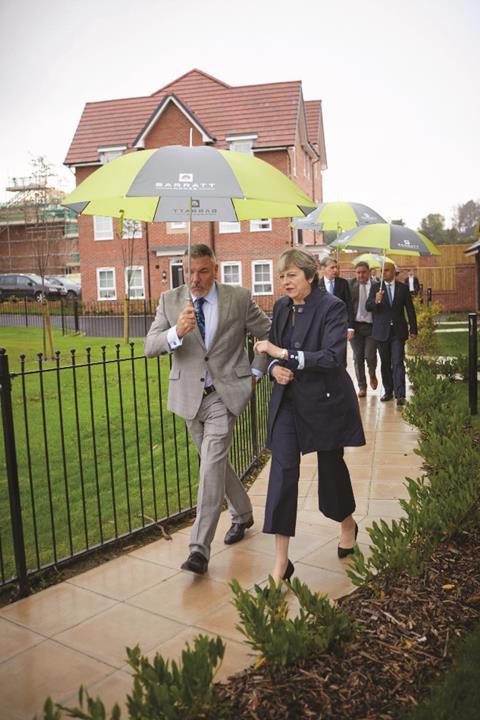 PM in the house
Theresa May likes her housebuilders, it seems. A few weeks back the prime minister was visiting a Barratt site while up in Manchester at the Conservative party conference (pictured top). And she's at it again, this time popping in to see a retirement housing complex in her Maidenhead constituency (below). The McCarthy & Stone scheme is aimed at people 70 and over. Perhaps May, who turned 61 last month, was sizing up a place for her post-Downing Street future or maybe she was updating residents on how the Brexit talks were going. Judging by the picture, I would say they look as bewildered as the rest of us on that subject.
Send any juicy industry gossip to hansom@ubm.com