We need a science-based, data-driven strategy if we are to hit our carbon reduction targets. Fortunately the UKGBC has been working on one, says Julie Hirigoyen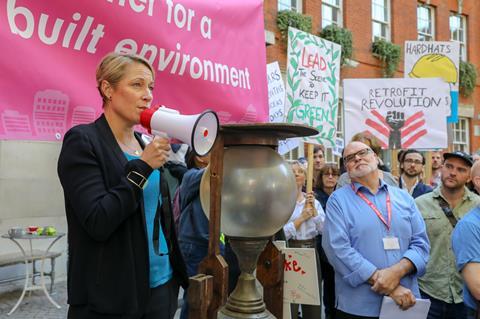 Like every other industry sector, the UK construction industry needs a plan to achieve net zero carbon by 2050 if not sooner. I'm talking about a meticulously thought through, science-based, data-driven plan that seeks to tackle every last quantum of greenhouse gas emissions from the entirety of the built environment value chain.
The government made a start with the publication of its heat and building strategy but, as luck would have it, industry bodies and NGOs have been working hard to produce a more detailed one in time for COP26.
At UKGBC we have engaged with dozens of stakeholders to create a net zero whole-life carbon roadmap for the built environment sector. Having updated the sector's actual carbon footprint using 2018 datasets, this work concludes that the sector was directly responsible for 27% of the UK's national emissions.
More importantly, the roadmap models the emissions reduction potential of a wide range of future actions, with a view to achieving minimal residual emissions by 2050, and halving them by 2030.
Encouragingly, based on existing technologies, it confirms that it is possible for this sector to achieve net zero carbon emissions by 2050. But this will not happen without the urgent introduction of a range of policies, regulations, incentives and funding sources – particularly around existing building retrofit and embodied carbon.
Alongside this, the Construction Leadership Council has launched a Construct Zero action plan including a performance framework highlighting and measuring industry progress towards carbon reduction outcomes on a quarterly basis. By taking action against Construct Zero, the construction industry will reduce its carbon footprint over time.
And the starting point for any and every firm in this sector that wishes to play its part is to set an ambitious decarbonisation trajectory of its own – and to join the UNFCCC backed race to zero campaign.
Julie Hirigoyen is chief executive of the UK Green Building Council
Ideas for positive change
This is part of our Countdown to COP26 coverage in the lead up to the world climate conference in Glasgow in November. We will be publishing more big ideas about ways to tackle the climate emergency over the coming weeks and you can find more here.
Do please send us your own thoughts about how to make construction greener! Email us, using the subject line "COP26 ideas", at newsdesk@assemblemediagroup.co.uk