In the final of our quick fire guides to recent changes at major contractors, we look at Kier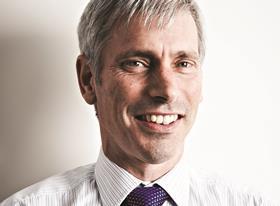 Recent changes:
In a dramatic move last month, Kier torpedoed Costain's agreed £178m merger with services firm May Gurney, by making a rival £221m bid for the company.
Costain has since withdrawn its proposal, with the way now clear for Kier's acquisition to proceed, which Kier says will create around £20m of synergies, double the amount identified by Costain, and with a return on investment for Kier shareholders of 15% by 2015.
If approved the deal would create a business turning over £2.8bn and result in around 200 job cuts from overlapping services. The deal will see Kier combine its £445m services business with May Gurney to create a £1.1bn turnover services arm deriving two-thirds of its revenues from local authorities (see chart below). In addition the acquisition would add a £180m turnover utilities business, mainly in the water industry, and a £36m fleet business.
Sheffield says the deal will enable the business to offer an "end-to-end" service to local authority clients, allow it to bid for highways and other contracts that it had previously had to decline.
Sheffield says: "Between us there will be nothing we can't do for local authorities, giving us a really compelling story around integration."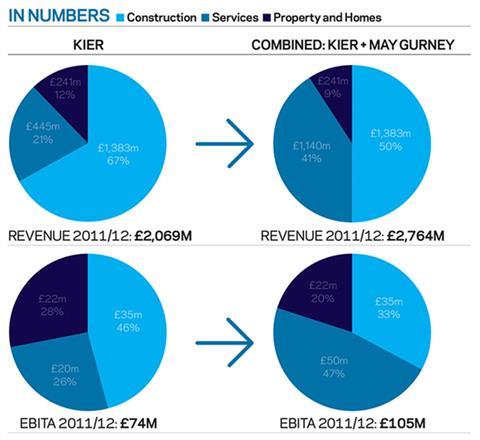 Earlier, in March, Kier announced it will rationalise its extensive network of regional offices, with different parts of the business brought under one roof, in a bid to cut costs amid the ongoing contraction in the construction industry.
Kier chief executive Paul Sheffield says the restructure, which is expected to cost the firm £12m this year, will see the business consolidate its "very extensive network of offices" across the UK, although the existing structure of eight regions will be retained.
Kier's construction business operates across eight regions, with 28 offices, while the services business comprises 33 offices. A further seven offices serve the firm's infrastructure and engineering businesses (see map below).
Sheffield says: "There is a slightly more efficient way to run the business that we believe will not weaken our regional presence.
"We won't be reducing the regional structure. But we've obviously also got a services division and in some parts of the country we might have a services office 15 miles away from a construction division office and actually by putting them both into one office we will get savings and efficiencies.
"So in terms of the regional network of construction companies we're not going to move away from the eight that we currently have but there will be some rationalisation of some of the offices."
Sheffield says the restructure, which will be complete by the end of the financial year, will inevitably involve redundancies, but the firm will not be drawn on the number of job losses.
He says the shake-up is aimed at making Kier "a leaner and more efficient business", but the firm has declined to give a figure on the annualised savings it is targeting.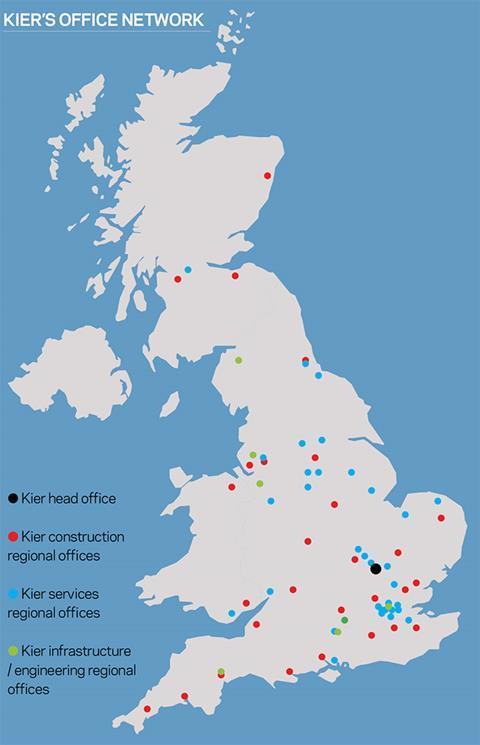 Latest results:
In its results for the six months to 31 December 2012, Kier reported interim profit of £20.9m, down by 35% on the £32.3m recorded in the same period in 2011, on revenue of £976m, which was down by 6.8%.
Kier's construction business had a 2.1% operating margin over the period, down on the 2.5% recorded at the same point last year, with revenue also down by more than 10% to £627m.
Operating profit in the construction business for the period stood at £13.5m, down from £17.8m over the same period last year.
Results for six months to 31 December
Kier Group
Revenue £976m (down 6.8%)
Pre-tax profit £20.9m (down 35%)
Kier Construction
Revenue £627m (down 13%)
Operating profit £13.5m (down 24%)
Operating margin 2.1% (2011: 2.5%)
What the company says:
Kier chief executive Paul Sheffield: "We are having to approach this as every business is: the building market in the UK is very tough, it's been difficult for a couple of years and it's going to be very tough for the next two years.
"We have to do what every professionally run organisation does and constantly review our cost base and I don't think any of our staff would expect us to do anything different. We just need to mindful of how we deal with it.
"The message is it's going to be a really difficult couple of years. There is a genuine drive from the government to get investment into the economy and the construction sector and we want to be there to benefit when that work comes through in a couple of year's time."