With government policies that cut rents and extend Right to Buy, housing associations are feeling the strain. But Geeta Nanda of Thames Valley Housing has an alternative approach. Portrait by Jean Goldsmith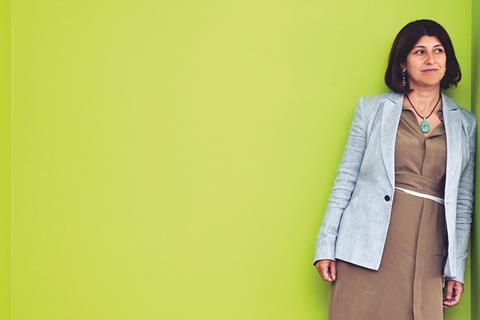 It has been described as an attack on the whole housing association sector. One hundred days into the new administration, and the majority Conservative government's policies around affordable housing are among its most controversial. The proposed extension of Right to Buy to housing associations alongside the unexpected cutting back of the rents social landlords are allowed to charge are together causing huge upheaval. Two of the largest associations - Circle and Affinity Sutton - have already announced they are looking to merge in response to the challenges the new policy environment is throwing up, and another giant - Genesis - says it will abandon the development of affordable rented homes altogether. All of the talk in the sector is of cutting back development programmes, particularly given the impact the enforced rent reductions will have on the future income streams associations need to raise finance for new homes. As one senior London government official said privately: "If you'd have been trying to come up with a way to fuck up the supply of new homes over the next 3-4 years, you couldn't have done much better than this."
But despite all this turbulence, on a day-to-day basis, housing associations have to get on with doing their job of giving a home to those not catered for by the private market. Geeta Nanda (pictured) has been running one of the most innovative of these, Thames Valley Housing (TVH), since joining as chief executive from Notting Hill Housing Group in 2008. By no means the biggest of associations - Thames Valley manages just under 15,000 homes and is not part of the influential "G15" group of London housing associations despite operating primarily in thecapital - it has nevertheless been able to find other ways to distinguish itself, including by setting up its groundbreaking market rental business, Fizzy Living. Despite all the challenges posed by the new regime, Nanda says housing associations can still be significant developers. But doing it will require constant innovation. So what does the brave new world look like from her perspective?
Risky business
In person 50-year-old Nanda, who was awarded an OBE in 2013 for her services to housing, is energetic and charming. She is a far cry from the stereotype of the housing association sector as comfortable and risk-averse, and certainly seems wary of appearing to fit that bill by being too critical of the approach of the new government. From its track record, TVH keenly recognises the dire need to find ways to build more homes, and provide a fair service to those it already houses: three-quarters of the organisation's planned 2,000 home-a-year development programme is funded by off-balance sheet activities.
But there is still no doubt that the proposed changes will have an impact on what it can build. The most serious blow comes from the decision by chancellor George Osborne last month to rip up the 10-year rent settlement for the sector that he himself announced in the summer of 2013, and impose four years of 1% rent cuts. Of course this helps tenants, but how big a hole does it put in the association's financial plans? The answer, Nanda says, is £15m over the four years alone - more than the entire surplus made by the association last year. On average it'll suck out about 5% of its annual income, which currently stands at £82m, the impact being so big because associations had previously been told to plan on the assumption they could raise rents by 1% above the level of CPI inflation each year.
They're the ones who've been completely shafted, people who desperately want a decent place to live in
The immediate outcome is to reduce TVH's development programme by about 50 homes a year - about a tenth of the 450-500 subsidised homes it is currently aiming to build annually.
However, Nanda says TVH will meet the commitment made to the Greater London Authority and Homes and Communities Agency, of 319 homes by 2018, because it had planned to over-deliver. "We all bid on the basis of CPI plus 1% - that's what we assumed," Nanda explains. "We've modelled over four years that it will reduce our income by £15m. But it's not what it reduces it by over just 4 years, it's how you look at that going forward over 30 years - a much bigger sum.
"There's a reduction overall in terms of the programme. We have to look at whether we do more shared ownership and less rented housing as a result of it… [but] there will be a reduction in new homes built."
This change in the rents that associations can charge comes as they are being asked by the government to build more homes than ever before. "There's a very clear message coming through which is you - housing associations - need to be more efficient," she says. "The agenda is about home ownership, and we [housing associations] need to be building more homes."
Last month housing minister Brandon Lewis told Building housing associations could comfortably rise to the challenge and "deliver more homes."
"It is contradictory. If you reduce our income, then it's going to be harder to produce more affordable homes," Nanda says. "We'll continue to do market sale and market rent, [but] you need subsidy to build subsidised homes. Increasingly we've been getting that subsidy from commercial activity and land deals. If your rent reduces, the long term impact of that is going to be less homes are produced."
Of course it's not just the rent reduction, but also the proposed extension of the Right to Buy discount to housing associations, that has parts of the sector up in arms. On this issue, however, Nanda is more sanguine: TVH has a long history of finding ways to support tenants into home ownership, whether through shared ownership, key worker housing, or tenant incentive schemes, so she supports the aim of seeing more people own the homes they live in. "We've done every initiative going for home ownership," she adds, and says the Right to Buy extension alone will not necessarily reduce TVH's development capacity, depending upon the detail of how it is rolled out. However, it is clear that extending Right to Buy is not the direction she'd choose. "We have to be realistic. There was a vote for it, it was in the [Conservative Party] manifesto, [so] we're going to have to apply it. Would I choose to? No. I'd choose to keep my rented homes and make sure we can offer people home ownership solutions through more shared ownership.
Right to Buy will diminish our rented stock, which is really important for people who need a below market rented home
"The Right to Buy is going to diminish our rented stock, which is really important for the people who need a below market rented home. What has been said is we'll get a full replacement value for it, which will allow us to build another home. If we get full replacement value we fully intend to do that, [but] it might be tricky to build in the same local authority area."
Finding another way
But while Nanda's analysis of these changes shows the challenges that associations face, the diversification TVH has undertaken since she arrived also points to the direction many will now have to head. While most developing associations have taken to developing private homes for sale to help subsidise affordable rental homes, TVH has been much bolder than most, and this year will build about twice the number of homes for the open private market - 908 - as it will for subsidised rent or sale.
Central to this is its three-year-old private rental venture, Fizzy Living, through which TVH is on course to develop and build 754 homes this year, and is aiming to deliver 1,000 a year between now and 2020. The business secured £200m of investment from the Abu Dhabi Investment Authority last year, and is now embarked on a programme of securing sites on which to develop its distinctive "Fizzy" homes, including through securing slots on larger developments, such as the mammoth 1,000-home Silvertown Way site in London's Royal Docks, or the Lewisham Gateway scheme (pictured below). With a portfolio of 796 homes already, the venture is the poster child of the much-heralded institutionally-backed private rented sector - one of a small bunch of organisations proving the concept can work in the real world.
It particularly makes sense for TVH because it already manages services for existing tenants, and the organisation is used to devising different service levels for different tenures. And while it is letting the homes at "market" rents via a funky brand designed to appeal to young professionals, Nanda is clear that the venture fits within the organisation's mission to house people who can't access the market. Its customers are exactly those who - earning respectable salaries but still shut out of the chance of owning their own home - have few options. "They're the ones who've been completely shafted, people who desperately want a decent place to live in," she says.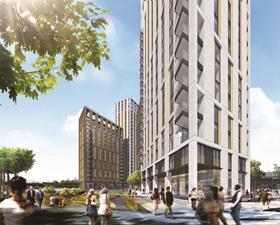 The venture was set up in response to the housing market crash and the need to get schemes going quickly, but the renewed rapid growth in house prices means it still feels like an idea whose time has come. So far, however, the new government has largely neglected the private rental sector in favour of promoting home ownership through Right to Buy and its Starter Home Initiative. "The numbers of people getting in to home ownership continue to fall, and therefore the priority is to get more people in," Nanda says. "But whatever the priority is, the population is growing, particularly in London, and there are plenty of people who are never going to access home ownership whatever you come up with and however much you produce. If we want 240,000 homes built we need this section of the market, the Fizzy section of the market, building a good percentage of those homes."
But Fizzy is just one aspect of what TVH does outside of its core traditional business. It also has a joint venture, Opal Land, with Galliford Try's housebuilding arm Linden Homes, to build and sell homes on the private market. In addition it has a PFI joint venture with Kier to build 371 homes on a single site in Woking.
All of which means there is no danger that an association like TVH will stop developing any time soon. What is severely challenged is its ability to develop homes for low-cost rent that help society's poorest - those without jobs, or trying to subsist on very low wages. Traditional social rent, Nanda makes clear, "is gone now."
"We will always look at what is the best way to achieve our social purpose, to help those who can't access the market. Financially we can withstand this, because we are efficient, and we've put all these alternative structures in place to make sure we've got a diverse income stream," says Nanda. "It [policy change] does push you to thinking 'what is the future? What should a modern housing association be? What should it be doing? Who should it be helping? And how do we meet our purpose?' We have to work out for ourselves what is our goal."
Thames Valley won't be alone in asking itself those questions in the coming months.

A 2,000 home a year client
Thames Valley uses a variety of procurement routes depending on the size of the construction job, and on the development deal behind it. Galliford Try is the contractor for the private sale homes built through its Opal Land joint venture. Likewise, many of its Fizzy Living homes come as blocks within larger developments, in which the construction procurement will be controlled by the overall developer. For TVH's core affordable housing pipeline, about 25% are provided by housebuilders under Section 106 planning deals. For those that TVH builds itself, it uses relationships with local contractors for the small (sub £4m) jobs. Anything bigger it tenders via OJEU, developing designs to RIBA stage E+, and then contracting on a design and build basis. This route enables it to retain control of quality and specification, while also taking advantage of contractors' supply chain deals and other efficiencies. It doesn't use a contractor framework, but while work is let via OJEU, it establishes relationships with trusted contractors who it will attempt to use repeatedly. These include Hill, Bugler and Rydon.