Countryside is set on a rapid path to growth, announcing its merger with Millgate Developments last week. Joey Gardiner talks to the boss, Ian Sutcliffe, about aligning his agressive expansion plans with the Cherry family tradition of quality housing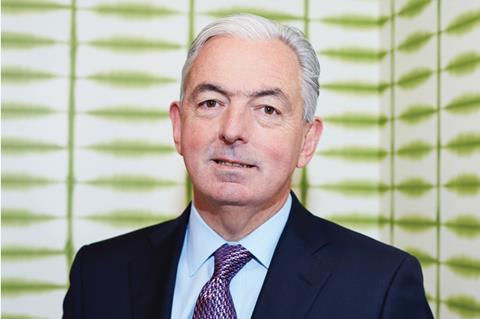 Last week housebuilder Countryside's executive chairman, Ian Sutcliffe, announced the firm is to merge with £50m regional player Millgate Developments, which makes luxury homes in the home counties. The purchase, made by Countryside's private equity owner, Oaktree Capital, will create a £350m turnover business able to operate in all the counties around London, as well as the capital itself and further afield.
The purchase is a significant moment for the 54-year old former Taylor Wimpey UK chief executive, who was appointed to his role in September. It moves Countryside quickly into new parts of the country and brings it access to a new, much wealthier customer base - but it is also just one part of a rapidly developing wider story at the firm. A story that many speculate is likely to end in the flotation of the widely-respected housing business within the next couple of years. Because after a significant period spent in the doldrums following the recession, £308m turnover Countryside has now set itself on a rapid growth path with an ambition to double in size within four years. And the Millgate acquisition seems to show it finally has the firepower to deliver it.
But does this tale of private equity-fuelled aggressive expansion fit with a housebuilder known more for the quality of its placemaking than the strength of its bottom line - a firm that the founding Cherry family delisted from the stock market in 2005 because it felt the City didn't value its long-term outlook on life? And what is Sutcliffe's plan to deliver that growth?
Liverpool-born Sutcliffe is one of the minority of senior housing industry executives not to have spent his career in the sector. He spent his formative years working for oil firm Shell where one of his first jobs was developing petrol stations. In 2006 he moved to George Wimpey, quickly becoming group chief executive Peter Redfern's right-hand man following the £5bn merger with Taylor Woodrow. Redfern describes him as "very bright, very driven, and very capable." So dynamic, in fact, that "sometimes his drive is stronger than those around him - sometimes they struggle to keep up." Is that fair? "I don't think that's unfair at all," he laughs in his broad Leeds-inflected accent - an inheritance from his father and time at university. "I have a sense of urgency about me, I do like to move." But he says he's learned to bring people on board through openness. "I'm from the North, what you see is what you get - there isn't a second agenda with me at all."
Sutcliffe moved out of housebuilding again as the market tanked in 2008 - to commercial landlord Segro, before, in 2012, moving back to the sector to spend nine months at contractor-developer Keepmoat. If he can't demonstrate a lifetime in housing, these relatively short spells do share one thing particularly relevant to Countryside: managing development businesses during times of intense change.
Because that is what Countryside is undoubtedly embarked upon. The purchase by Oaktree of Countryside a year ago this month was a genuine game-changer, ending a period through the recession in which Countryside laboured under the weight of debts taken on during the boom. Countryside and its banks had nevertheless embarked on a limited growth plan and even pencilled in a 2015 stock market flotation, but Oaktree's arrival effectively turbo-charged this ambition. Sutcliffe says: "It's been in bank ownership effectively for the last few years, but it had all the attributes of being able to grow: the people, the systems and above all a fantastic land bank. What it didn't have was the financial firepower to deliver that."
He won't detail how much Oaktree is willing to put into Countryside (no value has ever been revealed for the acquisition), but says the firm will effectively finance any deal that makes sense. "Ultimately the timing of the Oaktree purchase was excellent, and with that firepower we're now really well positioned. Put simply, we want to double the size of the business."
Sutcliffe says this ambition of doubling the business specifically relates to the firm's underlying profit, known as Ebitda, which for 2013 hit around £25m - on an organic basis, so any acquisitions, such as Millgate, could increase this. To that end Countryside bought land for 5,040 homes last year, three-times its current 1,560-home rate of construction, and now has a land bank of over 23,000 plots. "This is an aggressive growth plan," Sutcliffe says. "This is going to be fast moving."
I have a sense of urgency, I like to move. But you do have to be sure you're bringing people with you, and I'd like to think I can do that
Countryside, though, is a firm with a strong reputation based on the legacy of its founder, Alan Cherry, who died in 2010. Cherry, a member of the Urban Task Force that did so much to define Labour's approach to housing and regeneration, was a passionate about placemaking and housebuilders' responsibility to create decent communities.
Moreover the family legacy remains a big part of the firm - Alan's sons Graham and Richard remain in senior executive roles, and hundreds of employees at the firm's Brentwood office lined the streets for his funeral. So is Sutcliffe planning to change this approach? "We believe that our position is as placemakers. That is our point of difference; placemaking is what we do," he says, making clear he believes continuing this reputation will make it easier for the firm to expand into new locations.
And despite the growth plan, he says Countryside has no desire to compete at the 10,000-homes-a-year level of the likes of Barratt, Taylor Wimpey and Persimmon. "Once you get to a couple of thousand homes a year, the economies of scale of simply doing more are more than offset by the problems you have in terms of span of control and bureaucracy. It's not our focus at all to be one of the volume builders."
This means that you will not see Countryside's private housing business expanding through moving into areas such as the Midlands, the North and London. Known for its land-holdings and planning work, Sutcliffe says Countryside will also continue to eschew buying oven-ready sites with planning in favour of cheaper but more complicated strategic land: currently this provides nine in 10 of its housing plots.
Likewise the firm's partnerships business, where it operates as a developer and contractor for local authorities in redeveloping social housing estates, will continue to operate in London and the North-west. This business has made up 50% of turnover during the recession, and will probably move to around 40% . "It's an ideal combination for us. It gives us great access to long-term land, particularly in the London boroughs, but it doesn't expose us to volatile land prices in London. It [also] adds to our resilience - so when the market does cool, to be involved in long-term projects where we have an underlying uptake of our product is no bad thing."
So far this continuity with the past is getting Sutcliffe's tenure a good write-up, with one former Countryside veteran saying the retention of Cherry family members Graham and Richard was ensuring its ethos is perpetuated.
But don't get the impression Sutcliffe doesn't see improvements to be made - in particular around the financial return Countryside generates. Rather than simple operating margin, it is the return on capital employed (ROCE) which Sutcliffe sees as the firm's real challenge, and which he says is currently "not good enough." This metric measures the speed of return on money invested in the business - in other words how efficient it is with its capital. Where Countryside achieves, in Sutcliffe's words "high single digit" ROCE, Persimmon's, for example, is currently over 14%. "Some of the things we develop are longer term, and [we have] to demonstrate that the capital is being deployed in a responsible way, and we're not creating a moribund balance sheet - that people can't get the returns they require when they invest in [Countryside]."
How Sutcliffe achieves this while retaining the firm's dedication to strategic land isn't clear. Sites without planning permission are cheaper, and therefore potentially ultimately more profitable, but take longer to churn. He admits individual sites can take "tens of years sometimes" to be realised.
With Graham Cherry having remarked in 2010 that part of the reason Countryside went private was because the stock market didn't value its "long term" business strategy, a discussion of the financial performance of Countryside leads inevitably to the subject of its rumoured stock market flotation.
Sutcliffe insists his strategy is to create a larger but sustainable long-term business, not puff the firm up for a sale - and insists Oaktree has set him no target of taking the firm to IPO (initial public offering) specifically. "They don't see this as a quick exercise in polishing up a stone and moving it on," he says. However, he admits Oaktree will want an "exit" at some point, and analysts say the larger Countryside gets, the more a stock market listing will appeal. The firm is already too big for all but the very biggest trade buyers. "We have to get ourselves into a position where we've got investors options. One of those options could be an IPO, but there are other options including attracting other private investors. The good thing is that because Countryside was a public company previously, it has the process and governance structures to make the move into public sector not a difficult step to make.
"That's a point on a journey, it's not the destination of the journey. It'd be wrong to get very focused on that."
You would expect Sutcliffe to say this: investors will judge if they believe him when Countryside comes to market. His and Oaktree's dilemma is whether to seek to take advantage of the current buoyant housing market or wait until he is able to demonstrate the firm is delivering on the growth plan. "There are two different things here. One is the market enthusiasm. The second one is the making sure our growth plan is being delivered and people can see and touch where it's going to," Sutcliffe says. "The trick is aligning the two."
With the present fair wind from the market Sutcliffe could be said to have an enviable task in steering Countryside. But he will have to walk a fine line to ensure that moves to improve its City reputation by upping its return on capital don't put at risk the ethos that has won the firm its respected place in the industry.
Merger with Millgate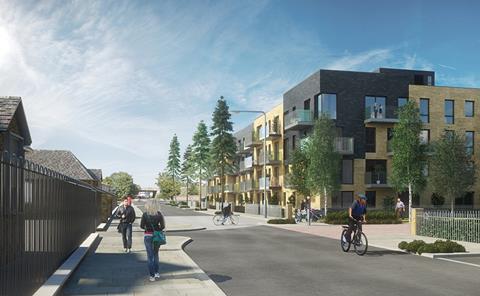 Sutcliffe describes Millgate Developments as "the perfect fit" with Countryside - complementing it with a more expensive, upmarket product and a geographical focus on the home counties to the West of London, where Countryside works in Essex, Kent, Hertfordshire and Cambridge. Millgate's average selling price this year was £1.8m, mostly in Oxfordshire, Berkshire and Surrey, whereas Countryside's typical product goes for between £300k-800k. Millgate's management team will stay, as will its brand and product. The idea is for Countryside staff to start working out of Millgate offices and vice-versa, with Millgate homes being added to premium plots in Countryside sites. Sutcliffe says this can happen rapidly. "We can start doing that from the day before yesterday. We'll hit ground running," he says, "the acquisition and planning has been happening in parallel."
David Simpson, managing director at Millgate, says: "Ian spotted immediately that there was a strategic fit. In our market we're the market leader, but there have been sites we'd like to buy but have been too big for us to acquire. Countryside has some of the best land banks in the country, but they've been turning down opportunities in Berkshire and Surrey because they are too far away. But not any more."