The director general of the British Constructional Steel Association on fighting for her members' interests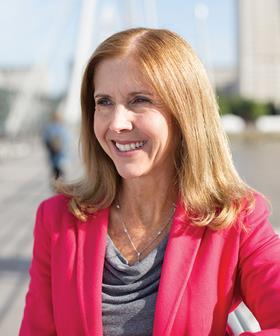 Steel specialists have taken some hefty knocks in recent years. In a sector that had already seen several high profile names go to the wall, the news in March that Severfield-Rowen - for so long seen as unshakeable - was facing a loss of £28.9m came as a heavy blow. Then in April the Cardiff based Rowecord went into administration. While there have been signs of recovery since - specialist contractor Billington last month reported a profit for the first six months of the year following a loss in the same period of 2012 - it is clear that steel specialists and the wider steel sector remain in a fragile condition, even as the construction industry as a whole is seeing signs of a recovery.
The health, robust or otherwise, of the steel sector is very much on the mind of Sarah McCann-Bartlett, director general of the British Constructional Steel Association. In person, McCann-Bartlett is relaxed and genial, but clearly dedicated to her cause. Just two years into the job and relatively new to the UK - she was born and raised in Australia where prior to joining the BCSA she was deputy commisioner of the Building Commission and Planning Industry Commission - she seems genuinely enthusiastic about batting for Britain. So, what
does McCann-Bartlett see as the greatest threat to her members' interests? And what can the sector, the wider industry and the government do to prevent yet more company fatalities and both prepare for and encourage therecovery?
Top of the list of McCann-Bartlett's concerns is that her members face unfair competition from foreign companies, many of which she says are able to undercut British firms because they receive some form of state subsidy. "What we are concerned about is foreign steel work contractors that are subsidised by government," she says. "It's a major issue. Other governments - not the UK - have no qualms about subsidising local industries."
The greatest threat, says McCann-Bartlett, comes from China. "I've seen China carve out manufacturing in Australia through heavily subsidised state-owned industries," she says. "Certainly at the moment with China taking its foot off the domestic pedal you've got a lot of production capacity that needs to be kept busy and if the government has to subsidise that in order to maintain jobs to maintain social stability - still a major issue in China - then they will do it."
Some of the prices that are coming through from places like Spain and Portugal, you wonder how they got that price
McCann-Bartlett maintains that the Chinese threat to the UK constructional steel sector is no longer theoretical, it is a clear and present danger. She points to the fact that the majority of thesteel for the Forth Bridge replacement scheme, easily Scotland's biggest civil engineering project, will be fabricated by Zhenhua Heavy Industries in Shanghai, which she says should have provoked UK-wide protests.
"I came into this role and being Australian I looked at it and said 'where are all the people marching on parliament because in Australia we do'. We get the unions and the industry marching and protesting."
Being undercut by state-sponsored Chinese firms is one thing, but McCann-Bartlett also has suspicions about some of the bids she has seen coming from within the EU. State subsidy on jobs tendered through OJEU, of course, breaks state aid laws designed to ensure fair competition.
"It's very hard to prove, but some of the prices that are coming through from places like Spain and Portugal, you wonder how they got that price because it's impossible," she says. "If they did manage that price then why haven't they gone bust within six months? And if that hasn't happened then how are they being funded?"
So, given the subsidised competition from China - and possibly EU members - is it possible for the UK constructional steel sector to sustain itself? Unsurprisingly, given McCann-Bartlett's role is to promote the sector, she is keen to talk about how the skills in the UK distinguish it from overseas competitors. "The sector is technically extremely forward-looking," she says. "Whenever our members go on overseas missions, it's obvious through the discussions that the UK is still years ahead of other constructional steel work sector.
However, despite her insistence of the sector's technological superiority, McCann-Bartlett believes that the government needs to do more to ensure that its procurement processes are fair for British companies - while still adhering to European legislation. She says that there are still ways that public sector clients can level the playing field - or even tip it in favour of the domestic industry without subsidising British firms.
"I'm definitely not advocating breaking EU procurement law, but you can do things a little differently," she says, pointing out that it is permissible to include clauses in tender documents that refer to providing local benefit, as is commonplace in the wind industry. "Government attitudes are starting to change and that certainly wasn't the case when we started campaigning on this 18 months ago."
But if such procurement specifications are open to the government, why have public sector clients failed to use them? "I don't think they thought it mattered that much," says McCann-Bartlett. "I don't think that they understood the ramifications for not only local jobs, but also whether we want to be a manufacturing country. I think that there was a real focus on the new manufacturing - aerospace, bio, high-end auto - and a lot of people forgot that we have a heavy manufacturing sector."
Similarly, she says that central government has been negligent in ensuring that its own strategies are translated into action by its various departments and agencies, as well as by local government. If numerous strategy documents were to have been followed through, initiatives such as project bank accounts and swift payment policies should now be the norm. "If you look at the fair payment policies that they've put in place, if they'd all been effectively implemented then we wouldn't be talking about this today," she says, adding that she is currently in dispute with a government agency that wrote to tell her that it doesn't do project bank accounts. She promises that if the dispute goes unresolved she will name names.
McCann-Bartlett's irritation reaches beyond the public sector. She also has complaints about main contractors, specifically when it comes to swift payment. "Our members are finding it incredibly difficult to get paid," she says. "There's a disconnect between how a chief executive would like to see their company run and the incentives for [contractors' internal] QSs on the ground. What that does is put the rest of the supply chain under tremendous pressure. If main contractors want to wake up one day and find that they have no supply chain at all they're going about it the right way."
Despite her grievances McCann-Bartlett is clear that a corner has been turned in terms of the market. Her members, she says, are more optimistic than they have been for years.
"What we're hearing from our members is that orders are starting to strengthen, order books are getting longer and the quality of enquiries that are coming through is getting better," she says. "I think that reflects that main contractors and clients have been out to the low end of the market, but you get what you pay for. They're now coming back to the supply chain that they know and trust. While margins are still very tight, prices are starting to firm up as well. We're definitely at a turning point."
Source
This article was originally published under the headline: "Testing her metal"