Chief executive says firm is considering buying engineering services business to win a place on Highways Agency's frameworks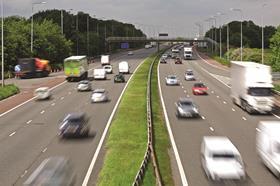 Kier chief executive Haydn Mursell has said the firm is considering buying engineering services business Mouchel in order to win a place on the Highways Agency's valuable trunk road maintenance frameworks.
Talking exclusively to Building, Mursell said that talks to buy £616m turnover Mouchel, which were ongoing as Building went to press, had begun in order to accelerate the growth of Kier's services business, envisaged under the firm's Vision 2020 strategy.
Mursell declined to give a timescale to when talks might conclude, but said comprehensive due diligence was being undertaken so that Kier would not overpay if a deal went ahead.
Currently £3bn-turnover Kier is one of the three biggest suppliers of highways maintenance services to councils, who look after the local road network. However, it is not on any of the five-year regional frameworks run by the Highways Agency (HA), which spends £2bn a year building and maintaining the UK's trunk roads. Mouchel gets 60-70% of its turnover from various HA contracts.
Mursell said: "We want to work for the Highways Agency, which is the same skills set [as local authorities], but a different sort of client. The HA operates five-year contracts. Every five years you get one bite of the cherry. It's very expensive [to bid] and the incumbents generally are pretty good so you have to work very hard.
"Mouchel does broadly 60-70% of its business for the HA. Looking at [buying] them fundamentally accelerates our organic journey. Rather than waiting and having to play in the game until 2020, we can get there a lot more quickly. That is the core driver of why we're looking at Mouchel."
Kier confirmed in December it was in talks to buy Mouchel, which is valued by analysts at around £400m. Last year Mursell promised Kier investors annual double-digit pre-tax profit growth, and with the government promising increasing investment in UK roads, purchasing Mouchel has the potential to deliver that. Mursell said the acquisition discussion was going "as well as I thought it would" but that Kier would walk away if the price was not right.
He said: "This is a serious acquisition for the group. Fundamentally we will not over pay for it. Where we deploy capital, we want to see a 15% return, and that will drive us to a point where there is a value of this business to us, and no more."