The past year wasn't all bad - which is why we have kicked off our review of the year with the heroes of 2010 - something a little more positive to ease you in.
Heroes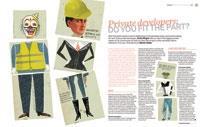 Private sector clients

Whether or not private development will come back quickly enough to plug the gap that will be left by public sector cuts, commercial and retail development did tentatively start to pick up towards the end of 2010. An investigation in November revealed that clients including BAA, Land Securities, British Land, Stanhope, Hammerson, Tesco, Sainsbury's, Waitrose and Whitbread are all planning to get their pipelines moving significantly over the next three to five years. Not only that, most of the work is yet to be allocated and the vast majority of clients featured are looking for new supply chain members to deliver it. Good news indeed.
Bill Rawcliffe
The former Jarvis worker from Yorkshire had been leading a campaign group, Justice 4 Jarvis workers, ever since the firm went bust but says it wasn't making enough impact, so he decided to stand for the Trade Union Socialist Coalition, against Ed Miliband, for the seat of Doncaster North.
His thoughts in the lead-up to the election? "I think I stand a chance. All the others look the same to me - all plastic … Me - I'm rough and ready and I have calluses over my hands."
David Miliband is probably still rueing Rawcliffe's failure to pull off a surprise victory …
Zaha Hadid
The perennial runner-up finally had her day in October when Hadid won the Stirling prize for the Maxxi Museum of 21st Century Art in Rome.
Some people said Hadid's win was a long time coming, and that it was good to see a woman scoop the award. But others were overheard muttering that a British win was in order.
Jennifer Deeney
In 2004, just 13 weeks after they were married, Deeney's husband died following an accident on a Laing O'Rourke site. Deeney has campaigned for better site safety ever since. Earlier this year, she released a calendar with support from specialist contractor the Byrne Group, featuring women from the industry who posed naked save for strategically placed pieces of PPE. The calendar raised £15,000.
Phillip Hammond
The transport secretary made himself popular by backing national infrastructure projects, and actually pledging some money to make some happen. In October, he confirmed that £5.9bn would be invested in road networks.
Villains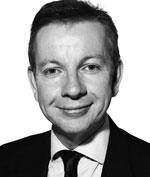 Michael Gove

Quite apart from the Building Schools for the Future cuts debacle (see page 34), Gove has to take pride of place among Building's list of villains of 2010 thanks to his explosive comments regarding the architectural fraternity. Back in May, during the election campaign, he accused designers of "creaming off cash" under the BSF programme and was later forced to apologise.
Garvis Snook
With his company listed under this year's Unhappy Endings (page 33), Garvis Snook's parting email to Rok's employees earned him a place in the most villainous names of 2010 as well. It was his cheery sign-off "Keep on Roking" that really took the proverbial.
George Osborne
Villain or necessary evil? It's a tough call but there is no "necessary evil" section, so villain it is. And it's undeniable that Osborne has made the construction industry's life difficult since he became chancellor. Following his Comprehensive Spending Review in October, we found out that about £20bn worth of work would be lost during the next four years, with schools suffering the most as the government asked firms to make savings of 40% from a total of 600 schools projects (for more on the CSR, see Election 2010, page 34).
But some would argue that Osborne did manage to shuffle the figures around to make sure the pain was inflicted in shorter, more manageable bursts over extended periods of time. And the protection of the nuclear and energy sectors from cuts will have raised a cheer. As will the fact that he said the government would invest £1bn to set up the low-carbon technology investment bank. So maybe he's not all bad …
Tough clients
With such intense competition for every job, clients have the upper hand. Public sector clients including the ministries of defence and justice have been developing a more BAA-like method of procurement, moving away from frameworks, and Crossrail is renegotiating contracts to find £1.4bn of savings. Hammerson's Vinod Thakrar admitted that it was far easier to get contractors to adhere to the group's tough criteria now because firms are so desperate for work.
But how fair is it to classify tough clients as villains? Most of them argue that supply chain members appreciate that it's a tough new world and that everyone needs to tighten the purse strings and get best value, including the clients. A survey by the Chartered Institute of Building released in December revealed that it's how these new, tougher relationships are sustained that contractors really want to work out.