Full investigation launched after broken bolt falls to the ground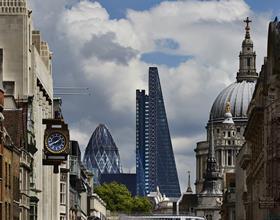 British Land has launched a full investigation into the breakage of two steel bolts at Rogers Stirk Harbour & Partners' Leadenhall Building, known as the Cheesegrater.
Two steel bolts, which are one metre long, broke on the tower with one part of one crashing to the ground - within the hoarding line - from the 5th floor this week and the other becoming lodged in the building after breaking loose at the 19th floor on 28 October.
The two bolts have been sent to a lab for tests to try and discover what went wrong. The results are not expected to be announced for a week to 10 days.
The building has been cordoned off while contractor Laing O'Rourke and engineer Arup investigate.
A spokeswoman for British Land said all 3,000 bolts have been subjected to a close-up visual inspection from inside the building, the City of London's tallest.
She said they were satisfied there was no risk that other bolts would fail.
No one was injured in either incident and there is no risk to the structural integrity of the building, she said.
British Land said the bolts connected the nodes on the megaframe, but said the design of the structure "allows for isolated events of this type and do not affect the structural integrity of the building".
In its statement British Land said "public safety is our number one priority", adding that "an update will be provided as soon as we are able".
Read Building's project review of the Cheesegrater: