Steel contractor's bolt replacement programme on Rogers tower to continue until end of the year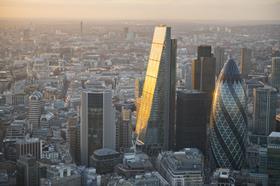 Steel contractor Severfield has incurred almost £1m of costs to date on the bolt replacement works being carried out at the Richard Rogers-designed Leadenhall Building in the City of London.
Between November 2014 and January 2015, developer British Land reported that three steel bolts had fractured and fallen from the building, which opened last July. An investigation by contractor Laing O'Rourke and structural engineer Arup uncovered a material failure in some bolts, prompting the replacement programme as a "precautionary measure".
Severfield completed the original contract in 2013, but was forced to write off £10m, admitting that it had "totally underestimated" the complexity of the job.
The steel contractor is undertaking the replacement programme on the tower, commonly known as the "Cheesegrater", in conjunction with British Land, Laing O'Rourke and Arup. It is likely to continue until the end of the calendar year.
While these works progress, all parties continue discussions to agree where the liability for the costs of the programme should rest.
Severfield's costs are being regarded as exceptional and will not impact its underlying operating profit for the current year.
In a trading update, the group added that its overall trading performance continues to be in line with management expectations. Its financial position remains "satisfactory" and net funds are expected to remain positive at the year end, Severfield said.
The firm added that its UK order book of £194m had "strengthened further" in recent months and "provides a solid platform for a return to revenue growth in the next financial year".