Andrews Fasteners Ltd bought out of administration by new company AFC Products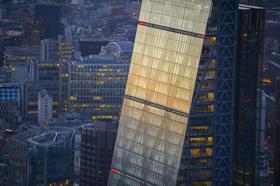 The company which supplied bolts to the Cheesegrater skyscraper in the City was put into administration and promptly taken back out again by a former director.
Leeds-based Andrews Fasteners Ltd, which was founded in 1980, was put into administration by insolvency practice O'Hara's Limited on January 16 this year, after changing it's name to AS Realisations Ltd.
However the company was only in administration for a matter of hours before it was sold on to a new company, AFC Products Ltd.
AFC Products Ltd, headed by former Andrews Fasteners Ltd director Mark Cary, then filed an amendment to change its name to that of the company it had just bought, Andrews Fasteners Ltd. The new company inherits the order book of the original Andrews Fasteners Ltd, as well as its supplier contracts.
The news comes as engineers replace a number of bolts on the skyscraper after three of the structural bolts partially broke away from the building.
Problems started in November when two of the bolts fell from the building.
Owners British Land brought in the skyscraper's structural team including contractor Laing O'Rourke and designer Arup to replace the bolts with tests showing that a material failure caused some to fall to the ground.
According to a British Land statement, the bolts had fractured due to a material failure mechanism called Hydrogen Embrittlement. As supplier to the contractor who provided the steelwork, Severfield, Andrews Fasteners Ltd has supplied the extra replacement bolts for the skyscraper.
AFC Products Ltd was founded in December, less than a month after the issue with the Cheesegrater first arose.
Steel structural engineer Severfield issued a statement last June admitting it had "underestimated" the Cheesegrater contract after it was forced to write-off a £10m in losses from the scheme.
Michael Carey, managing director of Andrews Fasteners, decliend to comment.
A spokesperson for Severfield said: "We are not in any position to comment on how another company manages their business or what their business status currently is."