Site running 24 hours a day as bosses race to get it ready enough to begin train testing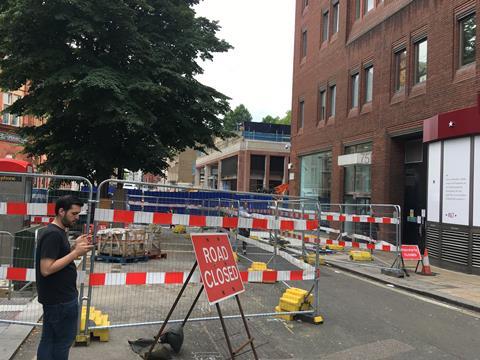 Around 500 people are still working on Crossrail's Bond Street station 24 hours a day as the scheme's bosses scramble to get the problem site finished enough to start trial running trains through it by early next year.
Crossrail has already admitted that it can't yet commence trial running because work, which is being carried out by a Costain/Skanska joint venture, is so far behind schedule.
Now Matt Houston, who is the construction manager at Bond Street, said the project team is racing to get the station ready to accept trains during the next phase.
In a video published to Crossrail's website, Houston said: "We have approximately 500 people working on site over a 24-hour period. We are working seven days a week, 24 hours a day.
"The main focus at the moment is finishing off a bulk of the install as although a bulk of the install is done we are focusing on finishing off snagging [and] inspecting the last remaining elements to release it into the next stage and really get testing and commissioning underway."
Last month Crossrail chief executive Mark Wild told a board meeting of Transport for London, which is helping fund the £17.6bn scheme, that Bond Street was being flooded with resources.
He said: "Whatever Bond Street wants, Bond Street is going to get. The particular tier one issue is Bond Street, where we are putting in special measures with the Costain/Skanska joint venture.
"They have new leadership at Costain under [chief executive] Alex Vaughan which we very much appreciate."
The station will not be ready when the rest of the central section of the railway is scheduled to open between October next year and March 2021.