US giant bids against CH2M/Arcadis and Arup/Atkins for £200m lead consultancy role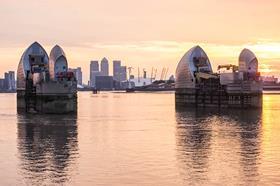 Aecom and CH2M are among the engineers in the running for the lead consultancy role on the £5bn Lower Thames river crossing, Building can reveal.
Industry sources have told Building that Aecom – alongside 50:50 joint ventures between CH2M/Arcadis and Arup/Atkins – has bid for the £200m technical partner role on the scheme.
The Lower Thames Crossing (LTC) is a proposed tunnel, near the existing Dartford Crossing, which would run from the M2 in Kent, crossing the river east of Gravesend and Tilbury, and join the M25 between junctions 29 and 30 in Essex.
The tender is expected to reach the shortlisting stage within a week. The three parties are all expected to be formally invited to tender for the role, which has a contract duration of up to 10 years. A contract is expected to be awarded shortly after a public consultation on the scheme ends on 24 March.
The contract was initially expected to be awarded last month, but has been pushed back to coincide with the outcome of the public consultation.
When appointed, the technical partner will provide preliminary designs, manage the planning application and help client Highways England procure one or more of the scheme's main contractors.
Subject to a development consent order, Highways England is aiming to start construction by 2021 and has targeted completion in 2025.
Aecom and CH2M/Arcadis are considered strong contenders for the role, as they are already involved in the project on different roles.
Aecom's Chelmsford office has been working on the LTC since 2013 as a consulting, structural and civil engineer, according to construction data company Barbour ABI.
CH2M and Arcadis were appointed by Highways England over a year ago to work on the option selection phase of the project, providing technical services on option engineering, traffic modelling, andenvironmental studies, as well as advising on stakeholder engagement and the public consultation.
Arup and Atkins are also in contention having been appointed to similar schemes recently by Highways England. A joint venture between the two firms won a £17.5m design contract last month for a proposed road tunnel under Stonehenge, moving the A303 that runs alongside the heritage site.
According to a source close to the project, the same Arup/Atkins team which won the Stonehenge deal is also bidding for the LTC technical partner role.
Highways England declined to comment.