Highways England launches consultation on £3bn river crossing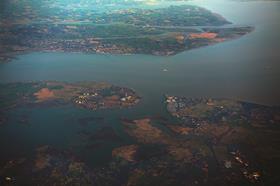 Highways England has launched a consultation on a £3bn river crossing under the Thames.
Known as the Lower Thames Crossing, the proposed scheme will see a tunnel built under the river which would run from the end of the M2, crossing the Thames just east of Gravesend and Tilbury, and joining the M25 between junctions 29 and 30.
The location, known as Location C, was shortlisted for a new bridge or tunnel in 2013 along with a site near the existing Dartford Crossing, known as Location A.
It would be the first new crossing of the Thames east of London since the Queen Elizabeth II bridge opened at Dartford 25 years ago.
A consultation seeking public views on the proposal started this week and runs until 24 March.
Roads minister Andrew Jones said if the proposed scheme is completed, it could add "over £7bn to the economy by increasing investment and business opportunities, and create over 5,000 new jobs nationally."
Highways England senior project manager, Martin Potts, said: "Deciding where the new crossing should go is a vitally important decision, and we've been working hard to identify solutions that strike the best balance between improving journeys, getting value for money and managing environmental impact."
He added that the proposed location provides "double the economic benefits" of the other shortlisted location.
A consultant JV between CH2M and Hyder is currently working on the project, providing technical services on option engineering, traffic modelling, environmental studies, stakeholder engagement and public consultation.