Consulting-led firm abandons push into UK contracting sector following strategic review of the business
Aecom is pulling the plug on its main contracting business in the UK less than four years after saying it would be making a major push into the sector.
The firm brought in three former Bovis Lend Lease executives, including the former chief executive of its Europe business, John Spanswick, to help spearhead the initiative back in September 2015.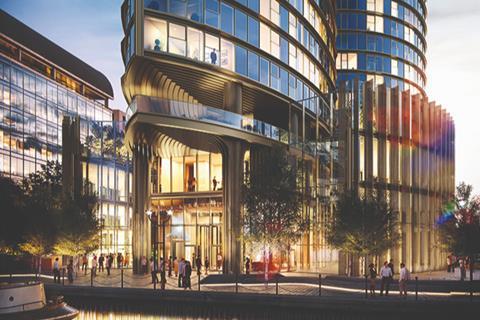 At the time the firm, which had bought US construction firm Tishman in 2010 for $245m, said its contracting arm would "lead our design and build offering in a targeted manner within the UK commercial and residential market".
But this week Aecom said it is turning its back on main contracting following a strategic review of its UK business.
In a statement, the firm told Building: "We have decided to make some changes to our approach to construction services work. We will continue to offer integrated project and construction management services but will be changing the way we do self-delivery [on] 'at risk' construction projects here in the UK, working with delivery partners in the future rather than taking on the work in-house."
The firm's major contracting project in the UK has been a stalled residential scheme in London's Docklands called the Spire (pictured), which has been on hold for a year.
Greenland, the Chinese developer on the 67-storey tower, designed by HOK, said it had mothballed the scheme because of growing worries about the state of the London property market.
Aecom said it will "complete current projects" and added the move did not affect its plans to build up to 3,000 modular homes at the Silvertown development in east London. It added: "Our focus continues to be on delivering innovative and high-quality projects and products for our clients, using traditional and increasingly digital design including modern methods of construction."
One rival said the firm's decision to draw a line under main contracting was "not a surprise" and added: "It was never a great idea."
Another suggested Aecom was having difficulty breaking the stranglehold tier-one contractors have on supply chains. "The big firms will have been making it as hard as possible to let another supplier in. I'm sure they'll have been putting the handcuffs on their supply chains."
He added: "Firms think building in London is like any other city. It's not. It's a real learning curve; there's lots of nuances over things like security and traffic planning."
Aecom already carries out contracting work elsewhere in the world, notably in the US, where its subsidiary Tishman built New York's One World Trade Center.