Mipim latest: Chairman Keith Griffiths warns UK is falling behind international rivals on housing policy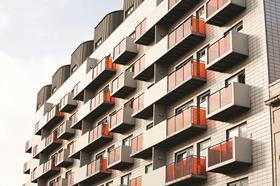 The chairman of Aedas Keith Griffiths has urged the UK to intervene strongly in the housing market to make homes more affordable.
Speaking to Building at the Mipim conference in Cannes, Griffiths urged the UK to rebalance its housing market to make it easier for poorer citizens to buy homes when competing with wealthy, often overseas, investors.
He argued the UK should "create a two tier housing system" by changing taxation to make it more costly for investment buyers of homes, either through sales taxes, purchase taxes or resale taxes.
Suggestions proffered by Griffiths included a higher rate of stamp duty on properties resold within a short time period, which he argued would "kill speculative trading immediately", or a "reduced resale tax for locals".
Griffiths said: "If you create a two tier housing system that will then create a change in [housing] product. Too much housing is currently designed and geared to overseas investors."
Griffiths argued overseas cities including Singapore, Hong Kong, New York and Sydney were already implementing changes in taxation to protect local buyers from the distorting influence of international buyers, leaving cities like London behind.
He argued London politicians must strike a better balance: "On the one hand politicians are driven to make London successful. But on the other they need to keep people happy that they can afford homes. You can do both – you can build investment property and housing for locals.
"Cities like Singapore, New York, Sydney and Hong Kong are well in advance of London in tackling this problem."
Griffiths also provided an update on the firm's UK business, which was bolstered by the acquisition of 50-strong RHWL last month.
Griffiths said the two firms had already compiled a list of "seven to eight cultural projects in China for which the [UK] arts team will fly over" and a "target list of clients in London", particularly from China, which they will target together.
In the UK regions, Corrie Jones and Alasdair Mealey, director and associate respectively of Aedas RHWL, said work was progressing, restarting, or potentially restarting on masterplans drawn up for Croydon, Stoke, Chester, Stockport, Liverpool, Salford, Sunderland, York, Reading.
Jones and Mealey also said their work in the Middle East, particularly in Qatar, was performing well.
Griffiths said he hoped to rebalance Aedas' business away from its China focus by growing elsewhere around the world, dropping the China to international markets ratio from 65:35 to a target 50:50.