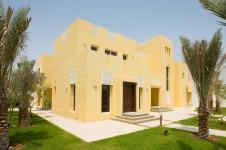 Aldar Properties has awarded three infrastructure contracts for its planned 5,000-home Al Falah development, sited to the east of Abu Dhabi International Airport.
The 12m m2 Al Falah development will be one of the UAE's new national housing communities, forming part of the government housing initiative as set out in Plan Abu Dhabi 2030.
Al Falah will comprise five villages, each with around 970 villas plus three schools, mosques, and neighbourhood retail, health and leisure facilities.
Infrastructure contracts for the villages have been awarded to Hilal Bil Badi & Partners (Hilalco), Ghantoot Transport & General Contracting Establishment and Al Jaber Transport and General Contracting.
The infrastructure to be built includes over 178kmof roads, almost 200km of water networks, 150km of sewers, a medium and low voltage power network and up to 100km of fibre optic cable.

Talal Al Dhiyebi, Aldar's director of planning and infrastructure, said: "This is a further step forward in our mission to build sustainable communities to cater to the growth needs of the Emirate of Abu Dhabi, and in particular, increase housing availability for UAE families."