Almost 4,000 responses received in 10-week public consultation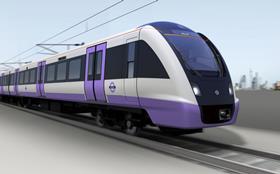 The route of Crossrail 2 has been revised following a public consultation.
The proposed railway will now run from Wimbledon in south-west London to Tottenham Hale and New Southgate in the north-east, the Department for Transport (DfT) said.
Previously, a route running from Epsom in Surrey to Cheshunt in Hertfordshire had been picked.
The DfT and Transport for London (TfL) said they had also made modifications to the proposed safeguarded route at Wandsworth Common, Chelsea, Soho Square and Angel in response to public concerns.
The 10-week consultation attracted almost 4,000 comments, the majority opposing the area of surface interest sites on Wandsworth Common and Trinity Fields in south-west London, which drew 3,728 responses.
Among the most significant changes to the previous safeguarded route are:
a new tunnel entrance south of Tottenham Hale station to take the line from above to below ground;
a proposed extension to New Southgate;
a station connecting to both Euston and King's Cross, instead of at King's Cross only;
an altered route running from Angel to Tottenham Hale and Seven Sisters via Dalston Junction, instead of via Hackney Central to Epping;
an altered route running from Victoria to Angel via Tottenham Court Road instead of via Piccadilly Circus;
an altered route running from Wimbledon to Chelsea via Clapham Junction and Tooting Broadway, instead of via Putney.
The updated route means that relevant planning applications in safeguarded areas will be referred to TfL for advice. If development interferes with Crossrail 2, either a compromise will be reached or the development will not be allowed.
TfL said it currently has no plans to compulsorily purchase properties along the route.
Transport secretary Patrick McLoughlin said: "Supporting transport infrastructure in London is a vital part of our long term economic plan. Crossrail 2 has the potential to improve connectivity, increase capacity and generate tens of thousands of jobs.
"To bring about all these benefits we need good planning, especially in a crowded and fast-paced city like London. These updated plans to safeguard the route will ensure that land most vital for its construction is protected so that, if constructed, the line can go to areas that will give the maximum benefits and value for money."
Michele Dix, TfL's managing director for Crossrail 2, said: "The confirmed safeguarding marks a vital step forward in progressing Crossrail 2 which is significant in providing more rail capacity to support growth in London for the future, in particular up to 200,000 new homes. We'll continue developing the scheme reflecting comments received to date with a public consultation later this year. We are working hard to deliver Crossrail 2 by 2030."