Beaten teams include David Chipperfield, Stanton Williams and DRDH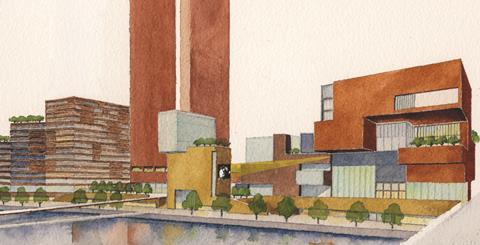 Allies & Morrison and O'Donnell & Tuomey have been appointed to the Stratford Waterfront scheme, a key part of Olympicopolis in east London.
The Stirling-shortlisted architects are in a team with Josep Camps/Olga Felip Arquitecturia. Gustafson Porter, Buro Happold and Gardiner and Theobald.
They beat five other teams led by Aecom, Baumschlager Eberle, David Chipperfield, Feilden Clegg Bradley Studios and Ramboll UK.
The 145,000 sq m project aims to create a new cultural quarter in east London to rival Albertopolis or Bloomsbury. Institutions already on board are the V&A, the University of the Arts London and Sadler's Wells.
Discussions are also underway with the Smithsonian Institution to join the scheme by opening its first permanent museum outside the United States.
As well as 70,000 sq m of cultural facilities, there will be a 75,000 sq m residential development. Stratford Waterfront is an area beside the Aquatics Centre. It forms a key part of the wider Olympicopolis project.
Bob Allies of Allies and Morrison said: "Having been involved in the design of the Olympic Park from the submission of the initial bid to the completion of the legacy masterplan, we are very excited to have been selected to bring forward this final component of what will be an extraordinary new piece of London, a remarkable collaboration between outstanding institutions."
Sheila O'Donnell and John Tuomey said: "We are delighted to be on the winning team for this most important project. Cultural and educational buildings and the public realm have been the critical purpose of our practice for more than 25 years. It feels like all our work has been leading towards this extraordinary commission.
"And we're happy to be back again in London where we began our careers in architecture. We greatly look forward to collaborating on the creation of an exciting urban quarter in this new part of town."
The competition was run by the LLDC and Malcolm Reading Consultants.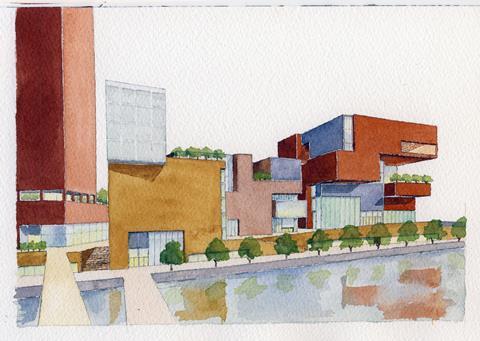 The full shortlist:
• AECOM with Stanton Williams, Alison Brooks Architects, AKT II, Asif Khan, Carmody Groarke, Charcoalblue, Haworth Tompkins and Vogt Landscape Architects
• Allies and Morrison with Buro Happold, O'Donnell and Tuomey, Gardiner and Theobald, Gustafson Porter and Josep Camps/Olga Felip Arquitecturia
• Baumschlager Eberle with 6a Architects, Office Kersten Geers David Van Severen, Latz+Partner, Buro Happold, Momentum Consulting Engineers, Charcoalblue, Gardiner & Theobald, Polly Staple and Chisenhale Gallery
• David Chipperfield Architects with Arup, Robbrecht en Daem, Harry Gugger Studio, Vogt Landscape Architects, Publica Associates, Alinea consulting
• Feilden Clegg Bradley Studios with Atelier Ten, Grant Associates, Expedition, Charcoalblue, Gardiner & Theobald, 5th Studio, Coffey Architects, David Kohn, DRDH Architects, Hoidn Wang Partner and Thomas Matthews
• Ramboll UK with Rick Mather, RCR, Jun'ya Ishigami, So-il, Max Fordham, Eckersley O'Callaghan, Steer Davies Gleave, Gardiner and Theobald, Savills, Britain Thinks, Eley Kishimoto, Ab Rogers, Charcoalblue, Speirs + Major and Gross.max
The jury:
Paul Finch OBE (Chair) Programme Director, World Architecture Festival
Amanda Burden FAICP, Principal at Bloomberg Associates
Nigel Carrington Vice-Chancellor, University of the Arts London
Neale Coleman Deputy Chair, LLDC
David Edmonds Chairman of the Governing Board of Kingston University, Chairman of E20 LLP, Board Member of LLDC
Al Horvath Acting Secretary of the Smithsonian
Louisa Hutton Royal Academician & Founder of Sauerbruch Hutton
Munira Mirza Deputy Mayor for Education & Culture
Martin Roth Director of the V&A Museum
Alistair Spalding Chief Executive & Artistic Director, Sadler's Wells
Martha Thorne Executive Director of the Pritzker Architecture Prize and Associate Dean of IE School of Architecture & Design
Expert advisers included Rab Bennetts for Sadler's Wells and Kieran Long for the V&A