Purchase saves jobs of 700 workers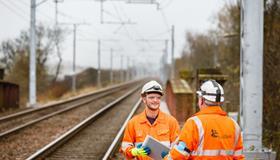 Amey's rail business has taken over a large number of Carillion's rail contracts in a move that is likely to save around 700 jobs.
The transfer of the Network Rail contracts operated by Carillion Construction Limited to Amey Rail Limited includes projects in the East Midlands, London and North West England.
The sale will also provide more certainty to suppliers who had been working on Carillion's rail jobs, Network Rail added.
Matthew Steele, commercial director at Network Rail, said: "This is a positive step for the industry, ensuring the delivery of a number of major rail projects across the country whilst safeguarding an expected 700 jobs and the wider supply chain. We look forward to working with Amey to enable a smooth transition and ensure the ongoing safe working on our sites."
"We do recognise that this has been a very unsettling period for the employees of Carillion and would like to thank them for the continued commitment to the delivery of these projects. We remain focused on the transfer of remaining projects and employees to new arrangements over the coming weeks and months."
Network Rail said it was continuing to work with liquidator PwC to seek long term transition arrangements for Carillion's remaining contracts and staff.
Last month, it was agreed that PwC will pay Carillion employees' wages for work done on and supporting Network Rail's contracts until after Easter and many of the construction companies smaller rail suppliers were paid the arrears they were owed to ensure the continued delivery of important projects.