Shadow business secretary expresses concerns over move to extend standard payment terms to 120 days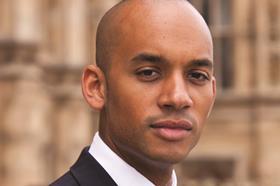 Anger at Carillion's 120-day payment terms Carillion came under fire this week over its move to extend its standard payment terms to 120 days, with MPs condemning the move as "appalling" and an "abuse of its position".
Last week, Building revealed the firm had extended its payment terms to 120 days and is implementing "reverse factoring", a financial mechanism that allows suppliers to be paid early if they pay a charge to the bank.
Carillion says that the scheme is optional and that it is offering to reimburse suppliers for the bank charges to ensure they are no worse off. The company says the system is aligned with the government's Supply Chain Finance scheme – itself a form of reverse factoring that is aimed at easing cash flow through the supply chain.
But Labour's shadow business secretary Chuka Umunna (pictured) said the suggestion Carillion may be using the government's finance scheme to "perpetuate late payment" was "worrying". "Where large firms are abusing their position to give suppliers increasingly unfair payment terms – effectively forcing their suppliers to bankroll them – this is an unacceptable practice and must be stopped," he said.
I would urge Carillion to think again or risk losing business from government

Robin Walker MP
Conservative MP Robin Walker, a member of the business select committee, said it was "extraordinary" for the firm to be extending its payment terms when "other firms are bringing them down". "I would urge Carillion to think again or risk losing business from the government in the future," he added.
Labour MP Alex Cunningham said he was "appalled" by Carillion's actions and would be raising the issue in parliament, while fellow Labour MP Debbie Abrahams, who campaigns on fair payment issues, also condemned the plan.
"It remains to be seen if Carillion really will ensure that their SME suppliers are compensated in a timely fashion for the bank charges they will be forced to pay by this arrangement," she said.
A spokesperson for the Department for Business, Innovation and Skills, would not comment on Carillion's scheme, but said Supply Chain Finance "should not be used as an alternative to prompt payment".
This week Carillion defended the scheme with a statement on its website after the news prompted a campaign on social media site Twitter, with users promoting the hashtag #DontWorkWithCarillion to express their views.
Carillion confirmed that payment in 120 days was now its "standard terms", but said that some small suppliers got paid earlier. "We have a very wide range of payment terms which are negotiated with all of our suppliers on an individual basis," the firm said.
Carillion said around 120 firms had signed up to work under the new system, with a further 50 in the process. "The feedback has been very positive," the firm said.


A legal challenge?
Carillion's payment system could be open to legal challenge, lawyers suggested this week. Lawyers said the move to 120 days payment terms could be challenged under the amended Late Payment of Commercial Debts Regulations, which were introduced on 16 March.
Nick Goldstone, partner at law firm Davenport Lyons, said the "acid test" would be whether the payment terms were "grossly unfair" as defined under the Late Payment of Commercial Debts (Interest) Act 1998.
Under the legislation the terms must be considered "grossly unfair" by a judge, who would look at what is good commercial practice and whether it deviates from "fair dealing".
The judge would also consider whether there is an "objective reason" to deviate from the regulations, which stipulate that payment terms should not exceed 60 days.
A Carillion spokesman said as its new payment terms were "optional" and gave "improved payment terms" it was "hard to see how there could be a challenge to [the] arrangements".