Move will take six months to complete
Apple has said that it will begin moving employees into its new campus in California designed by Foster & Partners from this April.
The tech giant said the process of moving more than 12,000 staff into the complex at Cupertino will take over six months, and construction of the buildings and parklands is scheduled to continue through the summer.
The campus's ring-shaped, 2.8 million sq ft main building is clad entirely in glass.
It will also include a 1,000 theatre which will be called the Steve Jobs Theatre after the firm's founder who died in 2011.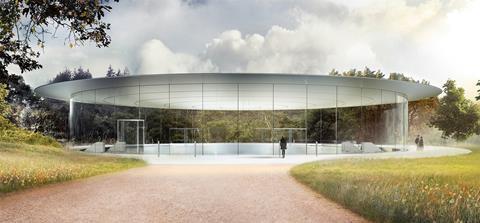 Apple Park will also include a visitor's centre with an Apple store and cafe open to the public, a 100,000 sq ft fitness centre for staff as well as research and development facilities.
The park will include over 9,000 native and drought-resistant trees and is powered by renewable energy. It will run one of the largest on-site solar energy installations in the world producing 17 megawatts of power.