One apprentice created for every £3m spent in contracts on government projects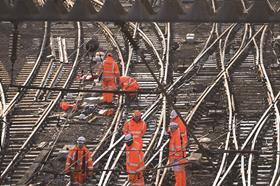 Contractors on major government transport projects will have targets for creating new apprenticeships from March this year.
The Department for Transport (DfT) has announced the measure as part of a skills strategy setting out how it will provide 30,000 apprenticeships in the road and rail sectors by 2020.
Depending on the contract, firms who win DfT contracts will have to create one apprenticeship for every £3m to £5m spent.
If firms can't meet that target, during the contract's lifetime they will have to increase the percentage of apprentices employed each year to equal 2.5% of its workforce, which is equivalent to 5 apprentices every 200 people employed.
The DfT said that alongside its delivery bodies, such as Highways England and Network Rail, it will work with suppliers to ensure apprenticeships are a key part of contracts on large transport schemes.
Highways England currently has a target to have one apprenticeship created for every £20m spent through a contract.
Transport secretary Patrick McLoughlin said the transport skills strategy sets out what the government is doing to make job opportunities in the sector "high desirable" to "attract the nation's talent and equip them with the skills" to deliver "world class" transport infrastructure.
He added: "We are creating thousands of high quality careers across the country, many of which are cutting edge, highly technical and require Britain's best minds."
Reacting to the announcement, director general at the Institute of Civil Engineers, Nick Baveystock, said: "Development of apprenticeships has traditionally been an area in which we have underinvested, so it is good to see progress.
"It is important that the apprenticeships meet an existing industry standard, and are tailored to meet the technological challenges involved in delivering future transport projects."