Design consultancy names Oosterveer as it cautions on trading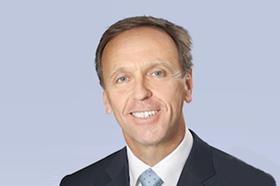 Arcadis has confirmed its new chief executive as Dutch national Peter Oosterveer, as the Amsterdam-listed engineering giant reported a drop in quarterly revenue driven by further tough trading in Brazil.
Oosterveer (pictured) - who was nominated for the role last month and will be officially unveiled at the firm's AGM next week - was previously a chief operating officer at Fluor.
Oosterveer, who was previously chief operating officer with engineering group the Fluor Corporation, replaces Neil McArthur, who left the Arcadis last October after clashing with the board over the future direction of the £3bn-turnover firm.
Arcadis also announced first quarter results, with revenue down 3% year-on-year to €818m (£683.9m), highlighting a "significant" decrease in Brazil.
The consultant - which has a large UK presence thanks to the acquisitions of EC Harris and Hyder in recent years - said operating profit came in at €47m (£39.3m), down 9% versus a year ago, but was higher than in the previous three quarters.
Arcadis said it had seen positive business sentiment in most markets, but it was cautious about Brazil, the Middle East and parts of Asia.
Revenue in its Europe and the Middle East division were down 4% at €350m (£292.6m), with the UK posting an 8% increase in net revenues, while the Middle East fell 12%.
In Brazil, revenues decreased "significantly", Arcadis said, leading to an operating loss and additional restructuring costs. The Americas overall posted gross revenues of €297m (£248.3m), down 4%.
Renier Vree, the firm's interim chief executive and finance chief, said the business was improving in a number of areas, following simplification of its operating model, and would "continue to focus on winning work with our clients, reducing working capital and sustaining our momentum".