Employees asked to take 60% of leave by September
Arcadis is furloughing staff and reducing pension contributions for its 3,700 staff.
RLB and Gleeds are among the consultants to detail what measures they have taken to make sure cash reserves aren't drained completely while Foster + Partners has also furloughed staff and introduced pay cuts.
Arcadis's UK chief executive Mark Cowlard said: "[We are] temporarily reducing employer pension contributions in line with minimum government requirements; and asking all employees to take 60% of their annual leave by September 2020 in order to help balance workload and resource availability later in the year.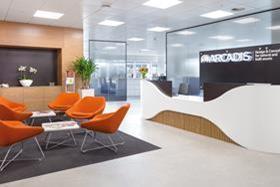 "We also intend to use the government's coronavirus job retention scheme in the teams and roles that will inevitably experience a reduction in workload, as it means we can protect jobs."
Cowlard said the firm would supplement the government funding to top up the salaries of those who were being furloughed.
He added: "We have already started conversations with some of our colleagues affected and will continue these over the next week.
"None of these decisions have been taken lightly but taking these controlled, practical measures now provides us with the best possible footing for recovery, and ensures that in the future we can be confident of continuing to create the outcomes for our clients that they expect from us."
Last night, chancellor Rishi Sunak said the Treasury was planning to open its coronavirus job retention scheme next Monday, adding firms should be able to get money from it by the end of the month.
The scheme sees the government pay up to 80% of the wages of furloughed workers to allow business to avoid making mass lay-offs. Companies can top up salaries above the 80% level if they want to help their staff avoid financial difficulties.
Last month the firm's Dutch parent company said it had stopped hiring people because of the coronavirus outbreak.
Other cash-saving measures it is taking include a global ban on bringing in new staff and withdrawing a proposed dividend payment.