Firm's work will support the soon-to-be adopted Walsall Town Centre Area Action Plan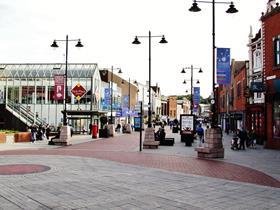 Walsall council has appointed Arcadis as lead consultant to develop a masterplan to regenerate the town's centre.
The firm will work with the West Midlands local authority while engaging partners and stakeholders who have expertise in development management, architecture, geotechnical engineering, planning, public realm, transport and environmental services.
The plan will form part of what the council called a "bold, inspirational and deliverable vision for a sustainable and resilient town over the next 15-20 years", supporting the soon-to-be adopted Walsall Town Centre Area Action Plan, which will set the planning framework for the town centre.
The council has secured nearly half a billion pounds of development funds and investment over the last 10 years, with projects including new retail, leisure and office schemes.
Simon Marks, Arcadis' city executive for the West Midlands Region, said his firm would be focusing on improvements to the shopping area, leisure, culture, public realm, transport links and housing, "whilst still ensuring we protect and enhance the historic character of the town and its greenspace".