Alejandro Zaera-Polo calls on client Network Rail to reconsider "destructive" alterations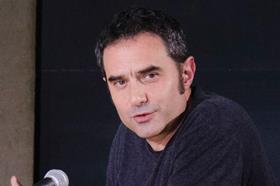 The signature architect behind Birmingham's £600m New Street station development has called on client Network Rail to reconsider "destructive" design changes and stick to his firm's original design.
Alejandro Zaera-Polo (pictured), whose former practice Foreign Office Architects (FOA) won the design competition for the project in 2008, said an alternative design recently produced for the scheme's centrepiece atrium would "destroy" the integrity of the original design.
Under FOA's original design, the giant atrium - which links the station with the new Grand Central shopping centre above - would have boasted a dramatic glazed roof interspersed with curving girders clad in white plaster.
Zaera-Polo said this would have brought the skylights and structure into a "seamless whole", but that the delivery team led by contractor Mace had pushed through an alternative design involving tensioned fabric cladding.
The architect was backed this week by Clive Dutton, the former head of planning at Birmingham City Council and instigator of the competition that led to FOA's appointment.
He warned the project's current leadership not to compromise on quality, saying: "Don't spoil the ship for a ha'porth of tar."
Zaera-Polo's current firm AZPML is still involved in the stainless steel cladding of the project's exterior but is no longer working on the atrium.
He denied press reports that it had resigned from the atrium job, but said it had refused to develop the alternative design.
Birmingham New Street is currently under construction and Network Rail denies that design quality would be compromised.
A Network Rail spokesperson said AZPML (then FOA) was involved in early concept design stages for the interior of the atrium, but the client was now working with Haskoll as interior design architect for the atrium and the Grand Central shopping centre.
"We gave AZPML every opportunity to work with us and develop a workable solution for the atrium design but they made the decision not to," the spokesperson said. "There are no plans to change the concept design of the atrium."
Mace and Haskoll declined to comment.