Steve Fernandez and Vicky Evans both based in firm's Nottingham office
Two members of Arup's Nottingham office have been appointed as directors of the global engineering firm.
Steve Fernandez and Vicky Evans (pictured) are just the second and third members of the Nottingham team to have been promoted to one of the firm's highest positions.
The pair have worked on major local, national and international projects, including the shopping and food destination Coal Drops Yard in King's Cross, the St Pancras Chambers development in London, the Defence and National Rehabilitation Centre near Loughborough, and the government's £3.6 billion Towns Fund.
Neil Harrison, associate director at Arup, said the appointments were a "huge boost" for the firm's office in Nottingham.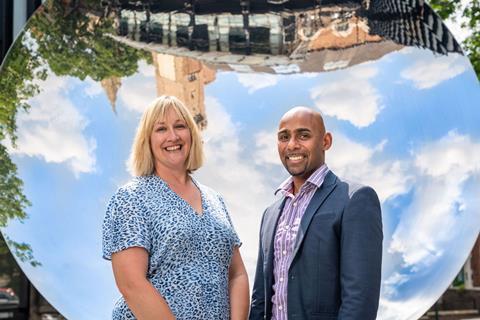 "The interview process for the role is extremely rigorous, and for the Nottingham office to have two directors appointed is a huge achievement. We're very proud of the work we do from Nottingham – we've been here for 30 years, we've got more than 100 staff based in the city centre and we are highly committed to the city."
Fernandez joined Arup as a graduate in 1999, working in Sheffield, London, Doha and Moscow. He has led the firm's civil and structural engineering team across the Midlands, and is the building retrofit leader across the UK, Middle East, Africa and India.
He has also been recognised as an "inspirational UK BAME innovator in science and technology" by UKBlackTech and Goldman Sachs.
He has designed and delivered schemes ranging from a new school in Loughborough to the transformation of the listed Newton and Arkwright buildings at Nottingham Trent University, a 60,000-seat football stadium in the Middle East, a research and university campus in Moscow and a timber pavilion in Nottingham.
Fernandez said: "I am a designer at heart – I love design and working with clients to develop an idea and then seeing our work come to fruition is a great pleasure of the job."
Evans, a chartered town planner, joined Arup in London in March 2006 and since then has also worked for the company in South Africa, Dubai and the Seychelles before moving to Nottingham in 2015.
She also leads the residential business for Arup across the UK, Middle East, India and Africa.
She said: "My work has become increasingly strategic, meaning that I've been able to influence decision-making at the very early stages of a project, which is really exciting".
As well as her work on the Defence and National Rehabilitation Centre at Stanford Hall, Evans has been working with the government on the £3.6bn Towns Fund and oversaw the development of 26 town investment plans in the Midlands and East region.
Evans was also involved in the establishment of the East Midlands Development Corporation, set up to create new employment and housing opportunities across three key sites at Toton, Ratcliffe-on-Soar and East Midlands Airport.
She said her promotion indicates that Nottingham is an area of growth for Arup.
"Our office has grown in size in the past five to 10 years – testament to the draw of Nottingham as a place to live and work."
Arup is among four consultants that have been picked to steer the government's hospital building programme.
The programme, which has been backed by an initial £3.7bn in government funding, will include the rebuilding of two hospitals in Nottingham, Queen's Medical Centre and City Hospital.