Nick Roberts to become chief executive of building materials giant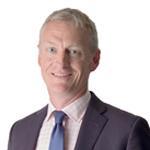 Atkins veteran Nick Roberts is leaving the engineer to take up the top role at building materials firm Travis Perkins.
Roberts (pictured) first joined Atkins in 1994, leaving four years later before returning in 2002 to head up the firm's environment arm.
He was chief executive of Atkins' UK and Europe arm before becoming president of the business at the start of last year, joining parent company SNC-Lavalin's executive committee.
Cenkos analyst Kevin Cammack admitted he was surprised Travis Perkins didn't turn to a company insider for the top job "given the number and profile of several divisional CEOs plus the fact that a new strategy has only recently been put in place which incumbents are more likely to be totally on side with".
Roberts will join £6.7bn turnover Travis Perkins in July taking over from John Carter the following month. Carter, who joined the firm in 1978 and has been chief executive since 2014, will leave at the end of the year.
In its 2018 results, the firm said adjusted pre-tax profit for the year to December was up 1.2% to £347m.
The firm is looking to offload its plumbing and heating business and is reviewing whether to keep its Wickes home improvement chain.