Listed architect blames UK industry woes for revenue decline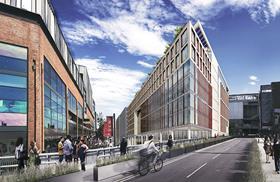 Architect Aukett Swanke saw first half revenues slump by a fifth, driven down by what the firm called ongoing stagnation in the UK construction market which showed "no clear-cut evidence of recovery".
The country's only listed architect had warned in April that it would sink further into the red, following losses posted last year.
Total revenue for the practice in the six months to the end of March 2018 fell 19% to £7.4m, while it posted a total loss of £1.2m, more than twice the deficit reported at the same point last year.
Reduced activity and delayed starts hit the firm's UK operation, which accounted for 43% of its total revenue.
The operation recorded turnover of £3.2m, down 30%, while a loss of £879,000, four times the deficit of a year ago, was partly put down to cost control coming in at half the rate of the revenue decline.
The picture was similarly gloomy across Aukett Swanke's Middle East and UAE operations, where the results were deemed "disappointing".
The firm's European operation had seen a "mixed performance", with "much reduced losses" in Russia, while it turned a profit in Turkey.
Nicholas Thompson, Aukett Swanke's chief executive, said the firm's plan to cut costs would continue, although "this by itself will not resolve market issues and the group's performance.
"Our overseas operations are beginning to benefit from reorganisation but, overall, as previously highlighted, we expect a group loss for the full year despite a better second half."