Joint venture to also develop scheme at Moorgate under £500m deal
Aviva Investors and Allianz have agreed a £500m joint venture for a mixed-use scheme next door to the new Crossrail station at Liverpool Street.
The Eric Parry-designed scheme at 1 Liverpool Street and 101 Moorgate will be built at either end of the station with the 1 Liverpool Street plot opposite the eastern entrance to Crossrail. The scheme will provide 176,000 sq ft of office and retail space across 11 floors.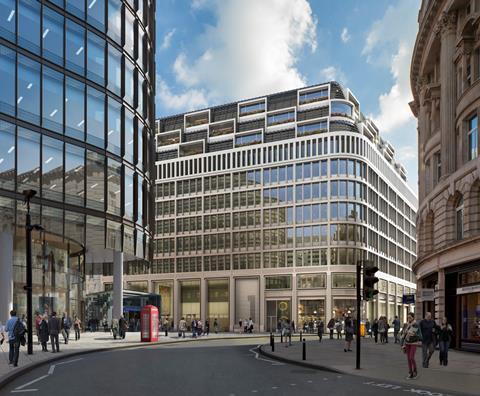 The plot at 101 Moorgate, designed by John Robertson Architects, is close to the junction with London Wall and opposite the entrance to Finsbury Circus. It will stretch across 73,000 sq ft of office and retail space over seven floors.
Aviva first signed a development agreement with Transport for London for the scheme at 1 Liverpool Street in September 2019.
Other buildings being built above Crossrail stations include a £50m office block designed by PLP above Bond Street – with Multiplex carrying out the work– and a £195m scheme above Tottenham Court Road which is being developed by Derwent.
Contractor on the AHMM-designed job, called Soho Place, is Laing O'Rourke with the scheme due to wrap up by the middle of the year, the developer said last week.