Exclusive: Airport operator's draft investment plan does not include second construction phase on Terminal 2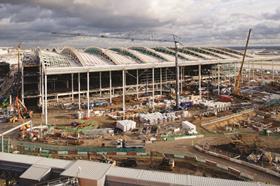 A second phase of Terminal 2 at Heathrow Airport worth up to £2bn has been shelved by airports operator BAA amid continuing uncertainty over the government's airports policy.
A draft of BAA's next five-year investment plan to 2019, set to be agreed with airlines and the regulator in the next two months, does not include the construction of the Terminal 2 second phase, understood to be worth between £1.5bn-£2bn in construction value, in its list of planned projects.
BAA stated in 2010 the second phase would be completed by 2019, but Building understands that while there is a small chance construction will start on site at the end of the period, it is most likely to now be postponed until after 2019.
The news follows the announcement of the departure of BAA's capital director Steve Morgan, who cited the lack of new major projects at the operator as explanation for his move.
For a full analysis of the situation at BAA see here
Morgan has overseen the procurement of the £2.5bn first phase of Terminal 2, which is set to be completed by 2014, and will add capacity for another 20 million passengers a year when fully operational. The second phase of the project was to have doubled the size of Terminal 2, and added a satellite building T2C, to take the capacity to 30 million in total.
BAA declined to comment on its development timeline in advance of the agreement of the investment plan, saying there were "ongoing discussions" over the issue.
The delay to the work comes amid ongoing uncertainty about the future of Heathrow as an airport hub, with the government opposed to plans for a third runway at the airport and having postponed a decision on how to address the issue of airport capacity in the South-east until after the next election.
Daniel Moylan, aviation adviser to mayor of London Boris Johnson, this week called for Heathrow to be shrunk to a one-runway airport serving just 20 million passengers a year in total, rather than the present 70 million. The mayor wants a hub airport to be built in the Thames estuary.
Darren Caplan, chief executive of the Airport Operators Association, said: "Boris Johnson is perfectly entitled to put forward his views on airport expansion. However, this doesn't have to involve negative attacks on our airports, all of which provide real jobs
and livelihoods."
Sir John Armitt, the chair of the Olympic Delivery Authority who was last week appointed by the Labour Party to work up plans for how to build political consensus on infrastructure decisions, said: "I believe we [in the UK] are in danger of losing out to the capabilities of rival airports on the Continent. There is not an obvious answer, but we need to find a way to keep up with airport capacity in the South-east."
On leaving BAA, capital director Steve Morgan said: "The next quinquennium at BAA will largely be about asset replacement rather than major new projects. I didn't want to spend the next few years watching the paint dry."