Report drawn up by Aecom and other consultants for airport operator warns of massive job losses if airport was to close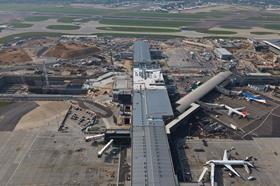 Heathrow airport's operator has warned of massive job losses if the airport was to close to make way for a new airport hub to the east of London, in a report published today.
The report, commissioned by Heathrow Airport Holdings and drawn up by Aecom alongside other consultants, including planning firm Quod, argues that Heathrow expansion could be delivered around seven years quicker than the time taken to build a new hub airport to the east of London.
The report, which will be submitted to the Davies Commission on airport capacity, says more than 76,000 people directly employed at Heathrow in west London would face re-location or redundancy if it was replaced and claims that adding capacity at Heathrow would provide better value for taxpayers, with a new airport requiring around £25 billion of public money.
It also says creating a new airport would increase travel times for 90% of hub passengers, with the economic cost of longer journeys amounting to a possible £26bn.
Christopher Choa, a principal at Aecom, said: "An expanded hub at Heathrow brings benefits to the east [of London] much faster than Stansted or any of the estuary alternatives.
"Why would we want to disrupt London's economic centre of gravity, which stretches from west London to the Thames Valley, an extraordinary set of globally competitive business clusters that have developed around Heathrow for the last 50 years?"
But writing in today's Evening Standard, mayor of London Boris Johnson - who opposes Heathrow expansion – accused its bosses of treating the public like "absolute idiots".
The Mayor hit out at them for arguing that there is public support for a third runway and possibly a fourth.
"Of all the miserable, useless, cynical examples of corporate short-termism and greed, this takes some beating," he wrote in the newspaper.
Johnson argues that Heathrow expansion would create more noise pollution for many Londoners under flightpaths in the west of the capital and instead backs the construction of a new superhub airport in the Thames Estuary or at Stansted.
Among a number of competing visions drawn up by architects, Foster & Partners has created a plan for a superhub airport in the Estuary while Make has proposed a scheme to expand Stansted.