Balfour Beatty and Carillion have announced that they are in talks about a possible merger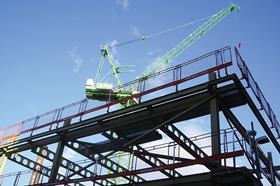 In a statement to the City today, the two firms said Carillion had approached the board of Balfour Beatty about a possible merger, and the two boards were now "engaged in preliminary discussions in relation to a possible merger of Carillion and Balfour Beatty".
Balfour Beatty, with turnover of £10.1bn, and Carillion, with turnover of £4.1.bn, are the UK's two largest contractors, occupying the top two spots in Building's latest Top 150 contractors table.
Balfour Beatty's share price rose 11% in early trading this morning, with Carillion's up 10%.
In a statement the firms said: "The Boards of Carillion and Balfour Beatty believe that the merger of the two groups has the potential to create a market leading services, investments, and construction business of considerable depth and scale.
"Work is now underway to develop a strategy and outline business plan for a combined entity, underpinned by the evaluation of achievable synergies, future financing arrangements and a number of other essential supporting workstreams.
"In evaluating the merits of the merger, the two boards will, inter alia, wish to be satisfied that such a merger would lead to very significant value creation for the benefit of both sets of shareholders."
The talks come after a dire period for Balfour Beatty, which has made a series of profit warnings, largely related to its UK construction business, with its group chief executive Andrew McNaughton standing down earlier this year.
In May the firm also announced its intention to sell its consultant arm Parsons Brinckerhoff to refocus on its UK and US construction businesses, in a move that was widely seen as an abandonment of its long-term strategy of diversifying into a global construction and professional services company.
Analysts said at the time that the move to sell Parsons could see Balfour Beatty become an acquisition target.
Carillion said that the two firms had agreed that the sale process for Parsons Brinckerhoff, which is already underway, "will proceed unaffected by this announcement, subject to achieving acceptable value and terms".
The companies have until 21 August to announce either a firm intention to merge or state that no deal would take place.