Group chief executive to leave "with immediate effect" after further UK construction losses discovered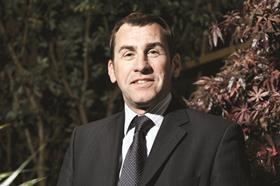 Balfour Beatty global chief executive Andrew McNaughton has resigned as the troubled UK contracting giant reveals a £30m profit warning in its UK construction division.
The firm said the write-down, which was due to problems in its major projects and M&E businesses within UK construction, would result in "significantly lower pre-tax profits in 2014" than the business had been expecting at the time of its results announcement in March.
Balfour Beatty also said it was looking to sell infrastructure consultancy Parsons Brinckerhoff, which it bought for £380m in 2009.
The firm said in a statement to the City that Andrew McNaughton, who succeeded long time chief executive Ian Tyler in April last year, had stepped down as chief executive of the group and as an executive director of the board "with immediate effect."
His place will be taken in the interim by Steve Marshall, Balfour Beatty's non-executive chairman, with the firm looking to announce an appointment process to replace him "shortly".
Marshall said: "Today's trading update is once again disappointing.
"The board is committed to rapidly addressing the root causes. As a result, action is being taken to improve operational delivery in the UK construction business."
Balfour Beatty's share price was down 18% in early trading this morning following the news.
The latest profit warning comes a year after Balfour Beatty announced a £50m profit warning in its UK construction business.
Last year revenue in its UK construction business tumbled 12% to £2.8bn, with profit £60m short of expectations.
In its statement this morning the firm said that actions taken last year to improve the performance of the UK construction business "are taking effect, but at a slower pace than expected".
"There has been significant performance improvement in the regional construction business, but the M&E and major buildings projects businesses have both experienced significant operational issues," the firm said.
The firm said the M&E business had experienced "an extremely challenging first quarter", due to "adverse market conditions"; "poor operational delivery issues on a number of contracts"; and "low order intake".
In the major projects business, the firm said it had experienced "further cost increases and delays".