Firm returns £19m ahead of paying out shareholder dividends
Balfour Beatty has paid back the £19m it received in furlough money from the government last year – after previously saying it wasn't planning to do so.
Last December, the country's biggest contractor said it would be paying a dividend on the back of its 2020 performance but said it was not planning to return the money which was used to help pay the wages of 3,000 employees – around a quarter of its UK workforce – it put on the government's Job Retention Scheme.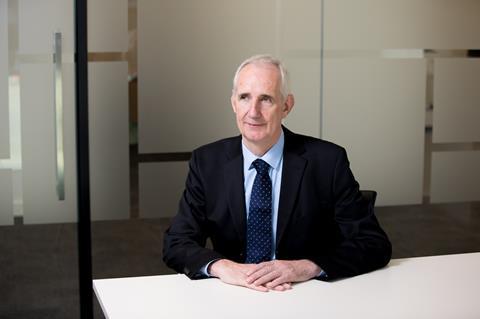 But this morning chief executive Leo Quinn confirmed it had returned the money, ahead of the firm paying out a 1.5p per share dividend to shareholders and returning £150m to shareholders in a share buyback programme during this year.
The move means Balfour Beatty joins its peers including Morgan Sindall, Galliford Try and Keller who have all decided to return furlough money before paying out dividends.
Quinn said the firm had not been forced into the U-turn and added: "No one raised it with me. The decision was a pragmatic one. The uncertainty of the pandemic has been removed, we have surplus cash and I think it's the right thing all round."
The firm was forced to shut around 20% of its 800 sites in the UK last year as the pandemic struck with jobs in Scotland more affected because of the country's tighter lockdown restrictions.
Quinn said the market was recovering from the initial shock of the pandemic last spring but added that its aviation business had borne the brunt of covid's impact.
"Aviation has been by far the hardest hit. We were doing hundreds of millions [of pounds] at Heathrow and Gatwick and that has reduced to a trickle."
The slowdown in airports work helped send its UK construction business to an underlying £26m loss on turnover of £2.1bn although its order book more than doubled to £6.4bn thanks to its work on the HS2 railway, which includes building a new station at Old Oak Common in west London, being confirmed.
Quinn said the firm, which has rejigged it senior leadership at London following the departure of Graham Hill earlier this year, was sticking with the buildings market in the capital – despite a slowdown in the city.
"We're talking to established customers and clients. I think London will take a year or two to settle down but we'll be there and present."
Overall group revenue edged up 2% last year to £8.6bn but pre-tax profit slipped from £138m to £48m. However, Quinn said the firm would be back to 2019 levels this year where underlying profit was £172m.
The firm said average net cash for the year was up from £325m to £527m while its order book now stands at a record £16.4bn.