Contractor revises up value of PPP assets by 46% to £1.1bn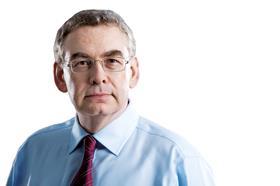 Balfour Beatty has revised up the value of its portfolio of PPP assets by 46% to £1.1bn, the contractor has announced.
The firm's UK PPP portfolio valuation has risen 63% to £801m, while its North American PPP portfolio valuation has increased 9% to £250m, with both valuations correct for June 2014.
The significant upward revaluation of its PPP assets comes after Balfour Beatty has come under fire from investors and analysts for a run of four profit warnings; the surprise decision to sell its consulting arm Parsons Brinckerhoff in May and for turning down repeated merger offers from Carillion in recent weeks.
Balfour Beatty said the revaluation of its PPP portfolio reflected "reduced discount rates, improved cash flow assumptions and revised macroeconomic assumptions".
The firm expects to invest around £250m in its PPP portfolio over the next five years.
Balfour Beatty is led by executive chairman Steve Marshall (pictured).
Andrew Gibb, analyst at Investec, said that investors would have "hoped for" a "slightly higher" revaluation figure.
He added that the revaluation did not make Balfour a more attractive acquisition target. He said: "The issue that any suitor has to get over is how far through the problem contracts are Balfour Betty in the construction business? Is there more pain to come?"
Gibb said there was "still a lot to do" before management could get the firm to a valuation of over £2bn as Carillion had promised a merger would.
Joe Brent, analyst at Liberum, said the revaluation "clearly does not change the economic reality" at Balfour, which earlier this month reported a pre-tax profit from continuing operations of just £1m in on revenue of £4.85bn in the first half of the year.
He said: "The approach by Carillion will have reminded the market of the long term value at Balfour Beatty… The quick fix [a merger with Carillion] might have been the easier option but the end point is still attractive. We would still not rule out an eventual bid by Carillion, or indeed someone else."
Stephen Rawlinson, analyst at Whitman Howard, said: "With a investment portfolio worth £1.1bn and Parsons Brinckerhoff said to be worth £700m the current market capitalisation at £1.7bn rightly reflects the scepticism we have about the performance of the underlying business and the reality of the of high level of debt and pension deficit."
He advised investors to "avoid" buying shares in Balfour until Parsons had been sold and the firm had a new chief executive in place.