Contractor to make £53m profit on 12.5% sale to private equity firm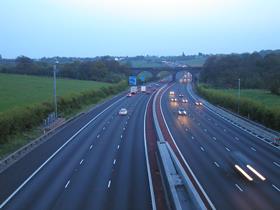 Balfour Beatty has sold a 12.5% stake in M25 operator Connect Plus to private equity firm Dalmore Capital for £103m.
The proceeds will be used to pay down borrowings for Balfour in 2018, with both profit before tax and year-end net cash in 2017 expected to be higher than those included in the December 12 trading update.
The contractor expects to make a £53m profit from the deal - £37m higher than the market consensus of £16m for infrastructure investments profit on disposal in 2017.
Balfour has also made a series of conditional arrangements with funds managed by Equitix Investment Management and Dalware that could see an additional 12.5% stake sold at an equivalent price by 13 May 2018.
Connect Plus was established in 2008 as a consortium with Egis Road Operation and Edge Orbital Holdings, which a year later secured a £6.2bn, 30 year PFI contract from Highways England to upgrade and maintain the M25, key link roads serving central London and the surrounding area, as well as the A282 Dartford - Thurrock River Crossing.
For the year ended 31 December 2016, Balfour's 12.5% interest in Connect Plus was valued at £78m and contributed profit before tax of £8m.
Leo Quinn, group chief executive of Balfour Beatty, said: "This transaction emphasises the ongoing attractiveness of our infrastructure assets and is in line with our declared intent to maximise value for shareholders."
This is the second major deal for Dalmore in under week after it teamed up with GLIL Infrastructure - a joint venture between Lancashire, Merseyside, West Yorkshire, London and Greater Manchester council pension schemes - to buy a 15% share of Anglian Water from private equity firm 3i for £395m.